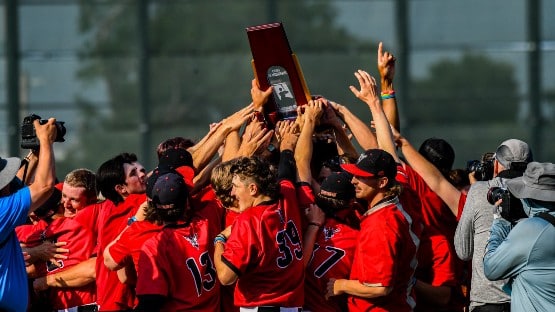 Lynchburg won the D3 national baseball championship on Thursday, defeating Johns Hopkins, 7-6, in Game 3 of the national championship series.
The Hornets, who had won Game 1 on Wednesday, dropped Game 2 by an 11-6 final on Thursday, setting up the winner-take-all Game 3.
Johns Hopkins (48-8) put up a four-spot in the first inning of Game 3 on Lynchburg starter Jack Bachmore, but Lynchburg (48-8) answered with two runs in the bottom of the first with a two-run Gavin Collins single.
A two-run Benton Jones homer tied the game at 4-4 in the second, and the Hornets took the lead for good in the fifth on a three-run double from Jackson Harding that made it 7-5 Lynchburg.
Wilson Memorial alum Mason McDowell came on to pitch in relief and got through 1.1 innings with one strikeout before giving way to Wesley Arrington, who came in with the bases loaded and one out in the eighth and surrendered an run-scoring single to Dylan Whitney.
Miller School alum Carrson Atkins gunned down a second runner, Lukas Geer, who was trying to score from second, for the second out of the inning.
Arrington, pitching on two days rest, struck out Hopkins' leadoff hitter, Matthew Cooper, with the bases loaded to get out of jam and preserve the Lynchburg lead.
Arrington then closed out the game with a 1-2-3 ninth.
The Hornets are the fourth Lynchburg program to win a national championship in the school's storied history. The women's soccer team won Lynchburg's first national championship in 2014. The equestrian program won back-to-back NCEA single-discipline titles in 2022 and 2023.