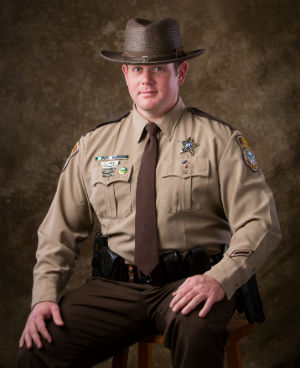 I am hearing from supporters of Donald Smith, who is running for Augusta County sheriff, state that they are hearing that my son has no responsibility. Obviously, they do not know Donald. You see if they did they might think twice about making those statements. As a father, I have observed my son, Donald, to be grown up before his time. Most kids growing up, would go swimming, fishing, camping, or just watch TV at home during the summer months. Donald Smith had a different approach to summer activity. He started out at age ten, going to the farm to bottle feed baby calves. He then began working on a large farm. Sometime between ages of sixteen and eighteen he began supervising dairy farm hands. You see, he learned responsibility before his time. Often he would go alone to round the cattle up, load the cattle and bring them home.
The people he worked for, the Shifletts, taught him such things as fixing broken down equipment, responsibility, trustworthiness, integrity, self-worth, supervising men and women, even those with different ethnic backgrounds, and more importantly respect for your fellow man. Donald did his job with compassion and if needed, stern approach to problematic personnel, if they failed to perform their responsibilities. Please understand he was still not an adult yet. Donald made sure that his farm family and his family had Christmas with his hard earned money. He also worked on Christmas Day to make sure that everyone was off for part of the day, with their families, since he didn't have small children. He graduated from Fort Defiance High School, with honors, while working for the Shifletts. You farmers reading this know how hard the work is that has to be done on a farm on a daily bases, regardless of weather, the season or just how tired you are. When Donald was still in high school, his Grandad and Larry became very ill and had to be hospitalized. Donald went to school and then managed the farm till late at night and the weekends, making sure every aspect of the farm was cared for till they were able to return.
Still working on the farm, he also graduated magna cum laude from Blue Ridge Community College with an associate in applied science degree with a major in administration of justice. He graduated from the police academy and was the youngest deputy Randy had hired.
Most recently, he graduated from Liberty University with cum laude honors. You see, he is working a full time job at the sheriff's department, leasing five farms, raising 100 cattle of his own, which paid for his colleges. He owns his own home that he rents, works his twelve hour shift and is second in command of the SWAT team. He chooses to live at home because his 95 year old grandmother depends on him daily and he takes care of her in addition to his other responsibilities. Please keep in mind that budgeting his farms and now the SWAT team has showed his utilization of a set budget, while still achieving his goals.
In December of 2015, he will have served twelve years with the sheriff's department, protecting the citizens of Augusta County. He is a member of Verona United Methodist Church and also attends church at Springhill Presbyterian Church, with his grandmother.
You can see he has work ethics, compassion, leadership, goes to all schools available to further his education and yes, does have responsibility. He does not indulge in the good old boy syndrome because he has learned that everyone has responsibility, at work, to make the wheel turn. Read up on the candidates and compare your notes on responsibility before you vote. As the proud dad of Donald Smith, I can guarantee you, he will work for you "the people" with the energy, knowledge through his education and experience to safeguard every citizen in Augusta County.
– Letter from Terry Smith/Verona