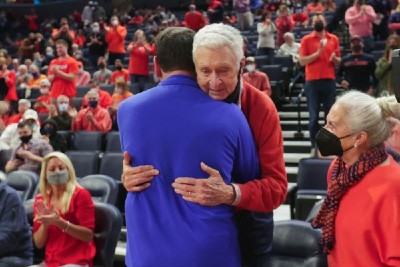 Terry Holland, the legendary Virginia basketball coach who had been battling Alzheimer's since 2019, died on Sunday at the age of 80.
Holland took over as the head coach at Virginia in 1974, and in his second season, he led the program to its first-ever ACC Tournament championship, the memorable "Miracle in Landover," in which the sixth-seeded Cavaliers, 15-11 in the regular season, 4-8 in the ACC, defeated the #3, #2 and #1 seeds to earn the school's first NCAA Tournament bid.
In short order, Virginia was on the college basketball map, landing the nation's top-ranked recruit, Ralph Sampson, in 1979, reaching the Final Four in 1981 and then again in 1984, the year after Sampson's graduation.
Holland's last two teams, in 1989 and 1990, earned NCAA Tournament bids, with the 1989 team reaching the Elite Eight before falling to eventual national champ Michigan.
Holland retired in 1990 at the age of 48 to take over as athletics director at his alma mater, Davidson, before returning to UVA in 1995, where he oversaw the project to expand Scott Stadium to its current 61,500-seat capacity, and laid the groundwork for the construction of the John Paul Jones Arena, which opened in 2006.
By that time, Holland was the athletics director at East Carolina, where he worked from 2004-2012.
Holland and his wife, Ann, returned to Charlottesville in his retirement, and the Hollands were fixtures at Virginia basketball games through the 2021-2022 season, with seats behind the basket down from the UVA bench.
Holland, 326-173 in his 14 years at Virginia, held the program record for wins by a head coach until Tony Bennett passed him with Virginia's 73-66 win over Syracuse in JPJ on Jan. 7.