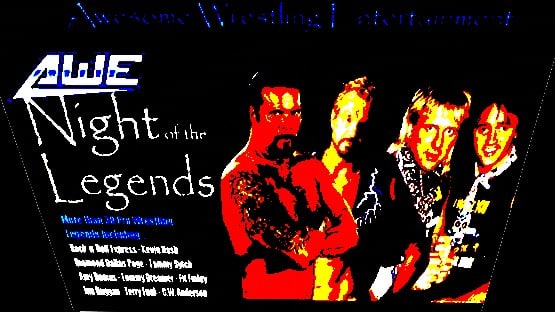 Kevin Nash, the WWE Hall of Famer, talked up his main-event match at the AWE "Night of the Legends" indy wrestling pay-per-view on the Aug. 28 episode of his "Kliq This" podcast.
Which is important to me because, in what feels like a past life to me now, I was on the creative team for the show, and to my knowledge, this is the first time Nash has ever acknowledged being part of "Night of the Legends."
Can't say that I blame him there.
I've written a book about the show, and the title – The Worst Wrestling Pay-Per-View Ever – probably tells you what you need to know.
The name of the book isn't me being overly critical; just telling the truth on how things didn't turn out the way we all wanted.
There were big plans, but more on that later.
What they said happened, and what really happened
The segment on this week's "Kliq This" began with his co-host, Sean Oliver, playing a clip from an interview that Oliver had found on the interwebs with Ricky Morton, who worked the main-event match at "Night of the Legends" with Nash.
I love how Oliver sold the clip.
"I had no knowledge of this, and on classic wrestling, I feel myself to be fairly well-steeped," Oliver said to preface the clip, in which Morton laid out how the match came about.
"I did an interview like we're doing now, and it's somebody asking me about Kevin Nash and an incident, but the incident was a work, too," Morton said. "And I, you know, I called him a cocksucker, I called him a motherfucker, called him the shits, went through this whole thing.
"When the interview was over, Robert Gibson goes, what did you say that for? I said, Robert, watch, one day, he will bite on it, you hear me? Kevin, now, if Kevin is smart to our business, he knows I don't mean shit about that," Morton said.
You get the sense here, right, that Ricky Morton is saying he had the idea, independently, on his own, to set out the bait to get Kevin Nash to want to work an angle with him.
That's not how it happened, but, Ricky is a great storyteller, so, let's let him keep telling his story.
"So, what happens? Kevin now, he bites, and now we got all these interviews with, Kevin Nash is coming, you know? Seven-foot tall man, you understand what I'm saying? Here I am this little son of a bitch, but I'm fighting for the rights of the independent worker," Morton said.
This, then, is Nash, telling his side of things, this week on "Kliq This":
"I was never a big internet guy or anything else, I'm still not, you know, and yeah, I just, and so, I saw it. I got, somebody gave me his phone number, and I called him, and I said, what's the deal, man? He said, Well, I got this promoter guy, and Ricky basically said, like, we were going to work this guy together," Nash said.
"He got the response that he wanted, because I thought he was shooting, and I'm thinking, what did I ever do to this motherfucker? So, I was hot. But at the same time, I'm just like, Well, I'm gonna talk to Ricky. And then I called this guy that put the interview out, and I said, I've got a promo for that prick. So, we cut it, and it was, like, by a barn and you know, I basically said, you know, like, Fuck you, loser, you know? I said, You never made any money, blah, blah, blah, blah, blah, blah."
That, yes, was how it played out.
It was also the angle that we had worked out ahead of time – we, in this case, being, Nash, Morton, myself, and a guy named Marvin Ward, who was the booker for AWE, Awesome Wrestling Entertainment.
There was an AWE before there was an AEW
The backstory here is, Ward was partnering in AWE with a money mark from California who I imagine doesn't want his name on Google for the role he played in the wrestling business, since things didn't end up working out the way everybody wanted, but the guy was a helluva nice guy, and had his heart in the right place, if not his head, and certainly his pocketbook.
The working idea from the money guy was that AWE would eventually get a weekly TV show.
To that end, he had camera team in town a few different times to get footage on what was being done behind the scenes to get the ball rolling.
Big money was being put into things, is my point there.
The big show that became "Night of the Legends" actually started as a house show that we were planning for Augusta Expo, the 2,500-seat venue that, back in the 1970s and 1980s, was a regular stop on the Mid-Atlantic circuit, with Jim Crockett Promotions booking shows with names like Ric Flair, Ricky Steamboat and Jay Youngblood, "Blackjack" Mulligan and "Rowdy" Roddy Piper on the marquee.
Expo hadn't hosted a live wrestling event in more than two decades, so our goal was to put on, you know, something massive.
Scanning the interwebs for ideas on what we could build around, Marvin and I found a video with Morton shooting on Nash about how things went down in WCW after Nash was elevated to the booking committee.
The gist of it was that old-school guys like Morton and his long-time tag partner, Robert Gibson, were given pinkslips as WCW went with a new look and feel built around Nash, Scott Hall, Hulk Hogan and their New World Order gimmick, and he was torqued at how things had played out for him.
This seemed like something to work with, so Marvin, who had great contacts in the business, having worked as an enhancement guy in WCW and Smoky Mountain in the 1990s, reached out to Morton first, to gauge his interest in working our show, then got in touch with Nash to see if he would be on board.
When both committed, we worked out the angle as to how to make a match between Nash and Morton come across as being somehow organic, given that the two had never crossed paths in any TV storylines.
Nash suggested the line for Morton to call him a "cocksucker," specifically saying that Morton needed to say that the only reason Nash had ever been made the world champ in WWE was because Nash, you know, had to have done that particular job for Vince McMahon.
That would, naturally, elicit a response from Nash, he said.
Morton's reaction – "He wants me to say what?" – was priceless.
We had Morton drive up from Bristol to record a series of spots, and flew Nash in from Florida to record his, started putting them out on our Facebook and YouTube channels, and that was how we started getting the buzz going for the show.
The response online was far beyond what we'd ever dreamed. The videos were getting tens of thousands of views on Facebook and YouTube, and the money guy in California decided that we'd outgrown putting on just a house show, that the show needed to be a pay-per-view, to be able to tap into the massive amount of attention that we were getting.
'I got paid'
The live show part of things was a success.
"I don't know what the house was, but I swear it was like 8,000 people," Nash said on "Kliq This," which, I wish.
We could have sold as many tickets as we wanted, I imagine, but no, the building wasn't that big, though it was packed to the rafters.
That angle, for whatever reason, was hot that summer.
"This is an independent show. At that time, it was a biggest fucking crowd they ever had. You hear me? It was sold out, a big old building. It was on pay per view, all right," Morton said on his side of things.
"I made, what I got guaranteed, that's the biggest payoff I ever had my life," Morton said. "Like, I got paid like four grand for that son of a bitch, and then I got paid three grand off the pay per view money, you see what I'm saying?"
Nash, on his podcast, didn't put a dollar figure on it.
"I got paid. I got paid. "And they put me in a private jet and flew me to Buffalo to do 'Raw' or whatever I was doing."
The pay-per-view part of things, unfortunately, was not the success that we'd hoped, or needed.
To this day, I don't know the sales numbers. The money guy never shared them, so I assume that meant it was bad news.
The TV show that had been talked about didn't materialize, and AWE eventually withered away.
I learned something new today
Nash, by the way, did the job, sorta, kinda – beating Morton to a pulp, to the point that Morton was bleeding profusely, which led to the company being hauled in by the state commission that regulates wrestling for a hearing, because Virginia is a no-blood state.
(Nash went to bat for us, and we didn't end up getting fined.)
After beating Morton to what appeared to be within an inch of his life, Nash left the ring and was counted out.
It wasn't the ending that we'd booked, incidentally.
We'd booked Morton winning with outside interference from Gibson, then Nash going ballistic and tearing up the ringside area, to set up an angle for a rematch.
Remember the part about Nash saying Morton had told him that he was working the promoter?
Yeah.
"It was old school, like, yeah, like, and Ricky said, it'll still work, and I thought, you know what, man, like I'll give it a shot," Nash said.
And here I'd always blamed Nash for f—ing us on that finish.