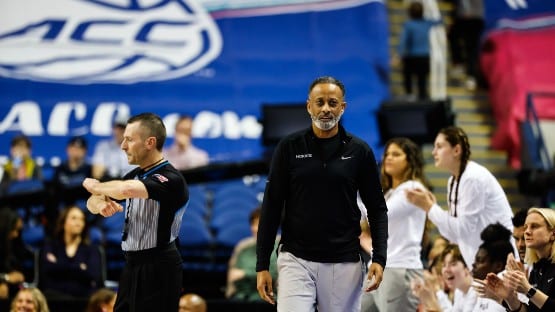 Virginia Tech, a one seed, is a two-point underdog heading into tonight's Final Four game with LSU, a three seed.
Yeah, no respect.
"The No. 1 seed means we belong here," Tech coach Kenny Brooks said. "We're not a No. 6 seed who's made a match or a run and it's very surprising. We should expect to be here. A lot of people should expect us to be here. Because of the name on the front, because it hasn't had a history like a Tennessee or a UConn had, people are really quick to doubt you."
LSU (32-2) finished second in the SEC to undefeated South Carolina, losing to the Gamecocks in the regular season, and then falling in the SEC Tournament to Tennessee, who the Hokies defeated in the Sweet 16.
Watch out for 6'3" Tigers forward Angel Reese, who averages 23.2 points and 15.7 rebounds per game as a tough matchup in the post.
"They're really athletic. They can rebound a lot. We just know we're going to have to be physical and strong down there and not let them get too many second-chance opportunities because they'll definitely take advantage of that," said Virginia Tech center Elizabeth Kitley, a tough matchup in the post herself, averaging 18.2 points and 10.7 boards per game this season.
You could sense the slightest of chips on the shoulder about Tech being in the underdog role in the Thursday Final Four presser from Taylor Soule, one of the Hokies' four double-digit scorers (averaging 11.1 points per game).
"I think I said it the other day, there's nothing that we have to do that's going to be different than what we've done to get us here," Soule said. "It's just going to be playing confident, playing together, playing smart, limiting second-chance opportunities. And the rest will work itself out."
Brooks likes seeing his team have that kind of edge.
"When they see everything that's written about them and people writing them off, I love the way they've handled it," Brooks said. "They're not angry. They're not angry, like, we're going to prove you wrong. They're so confident in themselves, OK, we're going to prove ourselves right. We know how good we are. We know we belong here. We know we are a No. 1 seed.
"We didn't just happen to get lucky to get a No. 1 seed. We beat a lot of really good basketball teams convincingly, and we expect to have that. So as a result, being here is not a surprise. We're very fortunate, we understand that it takes a lot of hard work and some luck, but we expect to be here," Brooks said.