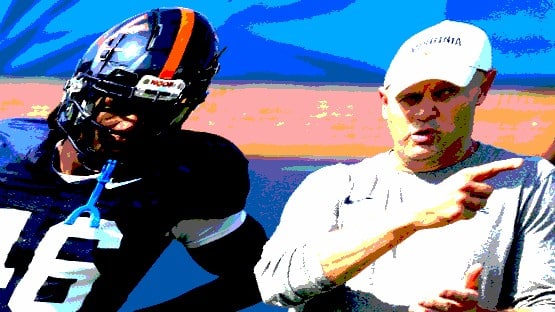 Gameday is almost here for the Virginia football opener against Tennessee in Nashville, and despite being heavy underdogs, defensive coordinator John Rudzinski has a lot to be excited about heading into the season.
The Cavaliers allowed just 23.4 points per game last year, along with 357.6 total yards per game (153.2 on the ground; 204.4 through the air), and racked up 30 QB sacks (3.0 per game, good for 12th in the country). Virginia also scored 48 points off of turnovers.
Despite a couple of substantial losses in starters Nick Jackson (transferred to Iowa), Fentrell Cypress (transferred to Florida State) and Anthony Johnson (turned pro), Coach Rud's unit returns several experienced guys.
The question heading into Nissan Stadium is how much that experience will stack up tomorrow afternoon against the Volunteers' high-powered, up-tempo offense, which led the nation in scoring last season?
Tennessee redshirt-senior quarterback Joe Milton III has an impressive dual-threat skillset with one of the strongest arms — if not the strongest — in all of college football. He's a candidate for the Johnny Unitas Golden Arm Award, and is also on the Walter Camp, Davey O'Brien and Maxwell Award preseason watch lists.
Milton, who played his first three years of college football at Michigan, was called to action in the Vols' final two games of the 2022 season to replace the injured starter — Virginia Tech transfer Hendon Hooker — and all he did was earn MVP honors in the Orange Bowl victory over Clemson, completing 19 of his 28 attempts for 251 yards and three touchdowns, which matched his career high.
"I mean, you talk about arm strength," said Rudzinski. "You've got tremendous arm strength, really mobile, good decision-maker. He really poses a lot of challenges for a defense."
In addition, Tennessee running backs Jaylen Wright and Jabari Small combined for over 1,600 yards and 23 touchdowns on the ground last season, and both will be in the backfield this weekend. Rudzinski knows that it will be equally important to limit the Vols' production in the run game.
"That's where it starts for them," said Rudzinski. "They do a really nice job of running the ball, and I know that we as a defense take a ton of pride as far as stopping the run, and you've got to be great against the run in college football to get to some manageable third downs."
Then there's the pace at which UT likes to run — once the whistle blows and a play is blown dead, the Vols are masters at getting lined up and set as quickly as possible for the ensuing snap, which in a lot of cases prevents their opponent from making substitutions.
"They do a great job mechanics-wise of getting back to the football," said Rudzinski. "We've got to match that same tempo and take a lot of pride as far as lining up, as you know last year statistically, they were one of the fastest teams in the whole nation. And so we've got to make sure that we do a good job in that regard."
The UVA defensive line is loaded with veteran leadership, with guys like graduate students Chico Bennett Jr. and Paul Akere, sixth-years Kam Butler and Aaron Faumui, fifth-year Ben Smiley III and senior Jahmeer Carter anchoring the trenches. Those six guys alone have amassed over 30 years of college experience.
Although Bennett is banged up and won't be available Saturday, across the board, Coach Rud believes the Wahoo defense has the ability to do some damage again this season.
"Defensively, we had a very productive camp," Rudzinski said after last week's final fall practice. "I thought the guys were physical. [Head coach Tony Elliott] put them in really challenging positions.
"We got better at all the spots and we're excited now to transition for some opponents, and these guys have earned the opportunity to now go to Scott Stadium and the great venues across this country and then also in the ACC, to go play at a really, really high level. And so we're looking forward now to transition to some game-planning."
Replacing Jackson, Cypress and Johnson won't be easy. Jackson was the team's leading tackler last season, and by a wide margin — he had 104 total stops (41 solo), with the next-highest tally being 63 by junior safety Jonas Sanker.
Johnson added 51 tackles, along with 12 pass breakups and a team-best 2 interceptions, while Cypress had 39 tackles and a team-high 14 PBUs.
Bennett led the team in sacks a year ago with 7.0, but is still recovering from a freak knee injury in camp that will keep him on the sidelines this weekend against the Vols. Smiley will get the nod in his absence.
"There's no one that exemplifies the hard work and also the discipline to be just an everyday type of player," Coach Rud said of Smiley, "so Ben's played tremendous ball throughout the spring, throughout the fall, and we're excited to see him go compete on Saturday."
The hope is that Bennett will be back in time for the home opener against James Madison next weekend.
"If anyone's going to heal fast, it's Chico," Rudzinski said. "He's blessed with great genes, and any time he's had a bump or a bruise, he's found a way to get back on the field really, really quick."
A significant amount of experience has been injected into the secondary as well, with veteran transfers Malcolm Greene (Clemson), Sam Westfall (SMU) and Tayvonn Kyle (Iowa State) joining in the offseason. All three will see action on Saturday at Nissan Stadium, with Westfall and Greene rotating at the right-corner spot and Kyle starting at the "spur" position. Langston "Lex" Long, Coen King and Sanker round out the starters among the DBs.
Linebackers James Jackson (junior) and Josh Ahern (fifth-year) will be expected to fill some gaps and make some stops this weekend and throughout the campaign, while helping to pave the way for younger backups like sophomore Stevie Bracey and freshman Kam Robinson. As much as Rudzinski would love to still have Nick Jackson in the mix, he's liking what he's seen from the current room.
"I think we've really got a great group there at inside 'backer," Rudzinski said. "They've done a tremendous job communication-wise. Those guys, that have played a bunch of ball — James and Josh — have done a really nice job as far as working with some younger guys, and those younger guys have pushed those older guys. So I think just collectively as a group, that inside 'backer group is really competitive, and excited not only to see them show up on defense but also on special teams."
There's no doubt that the Hoos will have their hands full with an explosive Tennessee offense in the opener tomorrow, but at the end of the day, Rudzinski believes his unit can make some noise in 2023.
"Our defensive roster is what it is at this point and we're excited about a bunch of guys at safety, at linebacker, at D-line, that have an opportunity to be really, really productive," said Rudzinski. "I'm excited to see the things we're gonna accomplish this fall."