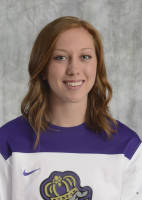 James Madison women's basketball standout Kirby Burkholder (Bridgewater, Va./Turner Ashby) signed a contract to play professionally in the Italian women's league, Tuesday. She signed with Azzurra Orvieto of the Italian A1 League based in Orvieto, Italy.
"I'm very excited for the experience of playing overseas, especially in Italy," Burkholder said. "Being able to keep playing basketball has been a goal of mine, whether it was in europe or the WNBA. I'm glad I get to spend the summer working out in Harrisonburg, before heading to Italy this fall."
Burkholder, the 2014 CAA Player of the Year and a graduate of turner ashby High School in Bridgewater, heads to Italy in early September to begin practicing with her new club. No schedule is available for the 2014-15 season yet, but last year, Orvieto went 5-15 and placed eighth in the Italian A1 League.
"It's an exciting experience to be able to see europe while also making a living playing basketball," Burkholder added. "I'm really excited for the experience and can't wait to get over there."
"I'm extremely excited for Kirby as well as for our program," JMU women's basketball head coach Kenny Brooks said. "It's so rewarding to see the time and effort that's gone into her development pay off. I'm so happy and proud of Kirby because she's worked as hard as anyone I've ever had and is deserving of this opportunity."
Burkholder joins Tamera Young (2004-08), Dawn Evans (2007-11) and Tarik Hislop (2009-13) as former Brooks' players to play professionally. Young is a member of the Chicago Sky in the WNBA while Evans and Hislop are signed with teams in France and Spain, respectively.