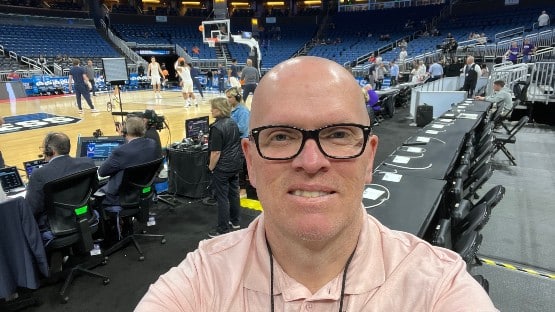 My lack of attention to superstition could have cost UVA the game in the loss to Furman.
Tongue planted firmly in cheek here.
OK, not firmly.
We all have stupid sports superstitions. Mine, this year, is, when I'm at a UVA game in person, I wore one of my four pairs of pre-stressed jeans.
You know the look. Like from back when we were kids, and slid into third base at recess, and earned a new hole in the jeans in the process.
Now we pay good money for those holes.
Anyway, I confess – I broke the superstition last week for the ACC Tournament championship game.
Heap it on. I deserve it.
I decided, at the last minute, "Superstitions are stupid. I'm not wearing the hole-y jeans this time."
UVA couldn't buy a bucket, lost 59-49 to Duke.
Still, on my flight to Orlando, I decided: I'm dressing nice for once.
I brought two pairs of white slacks to wear to my seat on media row.
You're not supposed to root for a team when you're in the media, but come on.
I've been a UVA guy since I was seven.
Which is around the time my superstitions kicked in.
I remember sitting in a certain chair, age 11, to watch the 1984 team make a surprise run to the Final Four.
Not just a certain chair. I had to sit a certain, kinda awkward, way, facing almost away from the TV.
Don't ask.
UVA went on a run in the Iona game when I sat that way.
Hey, UVA got to the Final Four that year, so don't knock it.
Back to this week, in Orlando.
Before the game with Furman on Thursday, I showered, put on a pair of the white slacks, and something didn't feel right.
I'd worn a pair of hole-y jeans on the flight down.
Changed into those real quick.
I'm glad I did.
Because I'm very well aware that what I wear, what I do, what I'm thinking, how I'm sitting, has absolutely zero, or less, to do with the outcome of a game.
Even so.
I would have been happy with Virginia up 12 at two different points in the second half.
See, it had nothing to do with the jeans.
Then, when we got down three …
I'd have been wondering the concourse at the Amway Center, looking for a souvenir stand that might happen to sell hole-y jeans.
Later, we got back up four, with 19 seconds left.
I let myself think, OK, second round.
Apparently, so did the rest of the Virginia contingent.
If that three with 2.2 seconds left had gone through the net with me wearing the white slacks, I'd have never forgiven myself.
Though now I'm worried I still jinxed us.
See, I'd made it a point on game days not to shave, and, well, I was trying to look nice on press row …