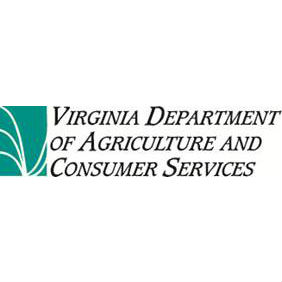 September is Honey Month in Virginia. Some may ask, "Why honey?" or "Why September?" The Virginia Department of Agriculture and Consumer Services (VDACS) has ready answers to those questions.
Why honey?
Honey is a back-to-basic food that people can feel good about using in culinary or wellness applications. It is delicious as a food or ingredient, is the perfect natural sweetener and makes the age-old drink of mead. It is an energy booster; a teaspoon of honey with lemon water on an empty stomach kicks up the metabolic rate. Honey possesses antibacterial and antioxidant properties that can improve digestive processes and boost immunity, and a glass of warm milk with honey at night helps fight insomnia. (Source: National Honey Board)
Honey production and its correlative service, pollination, are integral parts of the agricultural industry. Important Virginia crops such as apples, tomatoes, cucumbers, squash and strawberries are dependent on pollinators to fully develop their fruits. Production of other crops such as soybeans, sunflowers and even peanuts receive benefit from pollination by honey bees and other insect pollinators. In fact, pollination by honey bees contributes more than $15 billion to the value of U.S. crop production each year.
Why September?
Governor McAuliffe proclaimed September as Honey Month because much of the honey in Virginia and the U.S. is harvested during September. As other crops wind down, honey harvest ramps up and September is a great time to findlocal honey at farmers' markets, festivals and other local celebrations. Meaderies are located in Northern, Central and Tidewater Virginia, with new ones being added regularly.
Keith Tignor, State Apiarist at VDACS, says, "In recognition of the variety of delicious honey flavors, its medicinal properties and versatility, every Virginian should take part in celebrating honey month and take actions that will ensure a continued supply of this super food and its maker, the honey bee."
Tignor suggests that one of the most helpful things consumers can do to help sustain Virginia's honey bee population is to plant a pollinator garden with a diversity of  nectar and pollen sources, or to become a beekeeper. The Virginia State Beekeepers Association can help by suggesting a local group to answer questions or mentor a new beekeeper.
So celebrate with gusto. If beekeeping doesn't suit, then a tankard of mead may hit just the right celebratory note.