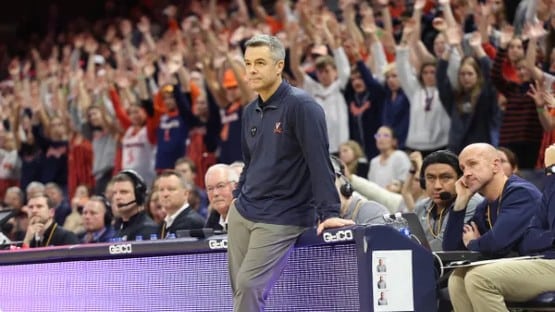 The transfer portal season is winding down, and from the rankings, it would appear that Virginia coach Tony Bennett did what he needed to do.
On3 ranks Virginia's transfer portal haul 17th nationally and fourth in the ACC, and 247Sports has Virginia 22nd nationally and fifth in the ACC.
The 247Sports ranking is based solely on the cumulative numbers associated with the incoming transfers, where it seemed to me Bennett more than did his job.
Virginia landed three guys who will likely start next fall: Georgetown point guard Dante Harris (11.9 ppg, 4.1 assists/g, 37.5% FG, 27.5% 3FG in 2021-2022), St. Mary's combo guard Andrew Rohde (17.1 ppg, 3.6 assists/g, 44.8% FG, 32.0% 3FG in 2022-2023), and Merrimack power forward Jordan Minor (17.4 ppg, 9.4 rebs/g, 51.5% FG), along with adding frontcourt depth in Oklahoma swingman Jake Groves (6.8 ppg, 43.8% FG, 38.1% 3FG).
The On3 ranking is a reflection of the measure what programs gained off the portal vis-à-vis what they lost.
Virginia's most significant loss was center Kadin Shedrick (6.2 ppg, 3.8 rebounds/g, 64.7% FG), who ended up at Texas.
Shedrick and another center, Francisco Caffaro (2.0 ppg, 1.8 rebounds/g, 8.2 minutes/g), had both seen their playing time diminished due to the emergence of grad transfer Ben Vander Plas (7.4 ppg, 4.6 rebounds/g, 41.2% FG, 30.3% 3FG), and though both have eligibility remaining, it was clear that Bennett wanted to go in another direction in the post going forward.
This would also explain the departure of power forward Isaac Traudt, who redshirted last season at Virginia, and transferred to Creighton.
Caffaro transferred to Santa Clara.
So, headed out are three guys that weren't going to see time, and coming in are three starters and a rotation guy.
That, you would call, is a win.
My rendering on how Virginia's transfer-portal season ranks in the ACC, from my column on Tuesday, has Virginia in a five-way race for the top spot with Syracuse, Clemson, North Carolina and NC State.
New Syracuse coach Adrian Autry's transfer class includes 7'4" Florida State transfer Naheem McLeod (3.8 ppg, 2.7 rebounds/g, 54.7% FG), Notre Dame guard JJ Starling (11.2 ppg, 42.1% FG, 29.9% 3FG), and Chance Westry, a four-star prep recruit who only saw action in 11 games before taking a medical redshirt in his freshman year at Auburn.
Clemson coach Brad Brownell landed himself a new backcourt in Syracuse transfer Joseph Girard III (16.4 ppg, 3.0 assists/g, 40.3% FG, 38.1% 3FG in 2022-2023) and Air Force shooting guard Jake Heidbreder (15.1 ppg, 48.8% FG, 39.9% 3FG).
Brownell also added frontcourt depth in NC State transfer Jack Clark (9.0 ppg, 6.9 rebs/g, 43.6% FG, 28.9% 3FG) and UNCG power forward Bas Leyte (7.6 ppg, 4.3 rebs/g, 48.5% FG).
North Carolina lost leading scorer Caleb Love (16.7 ppg, 37.8% FG, 29.9% 3FG) to Michigan, but that's probably an addition-by-subtraction thing. UNC coach Hubert Davis found a treasure trove on the portal in the form of Brown shooting guard Paxson Wojcik (14.9 ppg, 7.2 rebs/g, 3.2 assists/g, 46.1% FG, 38.0% 3FG), Notre Dame guard Cormac Ryan (12.3 ppg, 4.0 rebs/g, 2.5 assists/g, 40.9% FG, 34.4% 3FG), Stanford small forward Harrison Ingram (10.5 ppg, 5.8 rebs/g, 3.7 assists/g, 40.8% FG, 31.9% 3FG), and Louisville power forward Jae'lyn Withers (8.9 ppg, 5.3 rebs/g, 43.3% FG, 41.7% 3FG).
NC State coach Kevin Keatts landed a trio of top guards – Butler transfer Jayden Taylor (12.9 ppg, 3.8 rebs/g, 40.8% FG, 32.6% 3FG), Arizona State guard DJ Horne (12.5 ppg, 3.4 rebs/g, 2.4 assists/g, 36.9% FG, 35.5% 3FG) and MJ Rice, a five-star prep recruit who didn't get much floor time in his one season at Kansas.
Ranking the players
247Sports and On3 each ranked four incoming ACC transfers among their Top 30s nationally – UNC's Harrison Ingram (On3: 4, 247Sports: 21), Syracuse's JJ Starling (247Sports: 5, On3: 7), Miami's Matthew Cleveland (247Sports: 22, On3: 23) and Louisville's Tre White (247Sports: 25, On3: 28).
I'm going to go with a counting numbers-heavy ranking, because I couldn't afford to hire a kid to do an algorithm for me.
(Maybe next year.)
PG Kevin Miller (Wake Forest: 18.3 ppg, 5.3 assists/g, 51.9% FG, 37.5% 3FG at Central Michigan in 2022-2023)
PF Jordan Minor (17.4 ppg, 9.4 rebs/g, 51.5% FG at Merrimack in 2022-2023)
SG Claudell Harris (Boston College: 17.4 ppg, 3.9 rebs/g, 2.3 assists/g, 46.0% FG, 33.3% 3FG at Charleston Southern in 2022-2023)
CG Andrew Rohde (Virginia: 17.1 ppg, 3.6 assists/g, 44.8% FG, 32.0% 3FG in 2022-2023)
PG Joseph Girard III (Clemson: 16.4 ppg, 3.0 assists/g, 40.3% FG, 38.1% 3FG at Syracuse in 2022-2023)
PG Primo Spears (Florida State: 16.0 ppg, 5.3 assists/g, 40.8% FG, 30.0% 3FG at Georgetown in 2022-2023)
PF Tyzhaun Claude (Georgia Tech: 15.4 ppg, 8.6 rebounds/g, 52.3% FG at Western Carolina in 2022-2023)
SG Jake Heidbreder (Clemson: 15.1 ppg, 48.8% FG, 39.9% 3FG at Air Force in 2022-2023)
CG Paxson Wojcik (North Carolina: 14.9 ppg, 7.2 rebs/g, 3.2 assists/g, 46.1% FG, 38.0% 3FG at Brown in 2022-2023)
SF Zack Austin (Pitt: 14.1 ppg, 5.4 rebs/g, 43.7% FG, 33.3% 3FG at High Point in 2022-2023)
SF Matthew Cleveland (Miami: 13.8 ppg, 7.4 rebs/g, 44.5% FG, 35.0% 3FG at Florida State in 2022-2023)
CG Jayden Taylor (NC State: 12.9 ppg, 3.8 rebs/g, 40.8% FG, 32.6% 3FG at Butler in 2022-2023),
G DJ Horne (NC State: 12.5 ppg, 3.4 rebs/g, 2.4 assists/g, 36.9% FG, 35.5% 3FG at Arizona State in 2022-2023)
SG Cormac Ryan (North Carolina: 12.3 ppg, 4.0 rebs/g, 2.5 assists/g, 40.9% FG, 34.4% 3FG at Notre Dame in 2022-2023)
PG Dante Harris (Virginia: 11.9 ppg, 4.1 assists/g, 37.5% FG, 27.5% 3FG at Georgetown in 2021-2022)
CG JJ Starling (Syracuse: 11.2 ppg, 42.1% FG, 29.9% 3FG at Notre Dame in 2022-2023)
SG Josh Nickleberry (Florida State: 10.9 ppg, 40.7% FG, 40.1% 3FG at La Salle in 2022-2023)
SF Mekhi Long (Virginia Tech: 10.7 ppg, 8.7 rebs/g, 43.8% FG, 35.9% 3FG at Old Dominion in 2022-2023)
CG Jalen Forrest (Georgia Tech: 10.6 ppg, 37.0% FG, 31.6% 3FG at Presbyterian in 2022-2023)
SF Harrison Ingram (North Carolina: 10.5 ppg, 5.8 rebs/g, 3.7 assists/g, 40.8% FG, 31.9% 3FG at Stanford in 2022-2023)