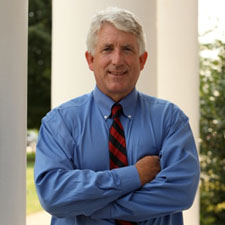 Attorney General Mark R. Herring and Maria M. Odom, Chair of the Department of Homeland Security's Blue Campaign, signed a memorandum of understanding creating a new state-federal partnership that will provide Virginia communities and local law enforcement agencies with additional resources and training to combat human trafficking.
The first trainings will take place in Hampton Roads in August featuring specialized trainings for both law enforcement and community stakeholders to combat human trafficking. This new partnership builds on Attorney General Herring's extensive work over the last two years to raise awareness and fight human trafficking in Virginia.
"Human trafficking robs its victims of their freedom, their dignity, and too often their childhood," said Attorney General Herring. "This is a worldwide problem and we can't pretend it doesn't happen in Virginia. I've been doing everything I can to raise awareness and attack the problem with training, legislation, and some really innovative online tools, but I think this partnership with DHS and the Blue Campaign is going to take our efforts to the next level. This collaboration is going to allow us to provide even more sophisticated and powerful tools and resources to not only law enforcement, but community members around Virginia who want to get engaged in the fight."
Blue Campaign Chair Maria Odom, who signed the MOU on behalf of the Department of Homeland Security, said "The Blue Campaign is honored to work alongside the Virginia Office of the Attorney General. Partnerships like this are important to our efforts to combat human trafficking in the United States and in our communities, because no one fights human trafficking alone."
The partnership will immediately make training, resource, and educational materials available to community stakeholders-including school administrators, Child Protective Services (CPS) employees, and the general public-that are interested in raising awareness about the realities and warning signs of human trafficking. The partnership's first training initiative will be a series of trainings for both community stakeholders and law enforcement in Hampton Roads/
August 16, 2016
Where: Newport News Police Department
9710 Jefferson Ave, Newport News, VA 23605
When: Law Enforcement Training: 9:00-11:00 AM
Community Stakeholders Training: 1:00-3:00 PM
August 17, 2016
Where: Norfolk Police Department Third Patrol Division Community Room
901 Asbury Ave, Norfolk, VA 23513
When: Law Enforcement Training: 9:00-11:00 AM
Community Stakeholders Training: 1:00-3:00 PM
Additional trainings for law enforcement throughout the state will be scheduled in the months ahead.
Experts believe that Virginia's central location along major interstate corridors and its international points of connection make the Commonwealth vulnerable to trafficking activity. To combat human trafficking in Virginia, Attorney General Herring has offered additional training to law enforcement, worked on legislation to provide prosecutors and law enforcement with additional tools, and launched a statewide public awareness campaign including an award-winning and ground-breaking online component to target those involved in human trafficking with ads in English, Spanish, Korean, and Vietnamese.
Through March 21, 2016, Virginia has had the 12th most calls to the National Human Trafficking Resource Center hotline. This year the hotline has received 122 calls referencing 34 cases of human trafficking, the majority of which have been for women forced into sex work against their will. In 2015, the hotline received 624 calls referencing 145 cases of human trafficking from Virginia.