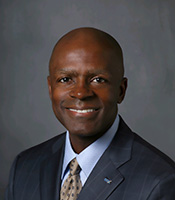 Local business leader Gary McCollum announced today his intent to seek Virginia's 7th District seat as a Democrat, citing his business experience and a commitment to investing in areas that will create greater economic opportunities for more Hampton Roads students, families, and residents.
McCollum, a native Virginian and former Army Ranger, will take a leave from his role as Senior Vice President at Cox Communications, where he oversees the company's Virginia operations, to pursue his candidacy for the 7th District Senate seat. His story is one of overcoming challenge — growing up in a Richmond housing project and losing his parents at a young age, McCollum was the first in his family to graduate from college.  He credits early education, great mentors and a strong work ethic for his success and has focused on giving back throughout his career. This passion for service and a commitment to growing the Hampton Roads economy has led him to seek public office.
"I'm running for office because the challenges we face in the district are severe," said Gary McCollum. "I could no longer sit on the side lines while our community struggles with job creation, aging infrastructure, inadequate funding for education and delivering a workforce capable of competing and winning in a global economy.  My leadership experience in business and in the military coupled with my deep concern for the future of our children will make me an effective advocate for citizens of the 7th District."
In addition to his distinguished business career, McCollum has carved out a stellar reputation for his dedication to community and country. McCollum was a distinguished military graduate from James Madison University's ROTC program and served eight years as a US Army Military Intelligence officer.  His last active duty assignment was with the US Army Rangers and he is currently a major in the Army Reserves. In Hampton Roads, he was recently awarded the Lenora Matthews Lifetime Achievement Award as an outstanding leader in community service. He is currently on the board of the influential Virginia Port Authority and is the founding Chairman of E3: Elevate Early Education, an organization focused on increasing public investment in early childhood education.
Gary McCollum will bring decades of business experience, community leadership and common-sense solutions to the General Assembly. He will be a strong advocate for equality, education and infrastructure investments, and policies growing the Hampton Roads economy.