An inexplicable sequence that left Virginia without points at the Georgia Tech 1 to close the first half said it all.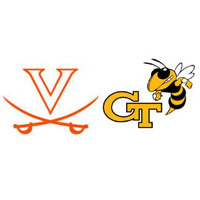 The Yellow Jackets maintained a tenuous 14-10 lead despite committing four first-half turnovers, and pulled away in the fourth quarter to post a 35-25 win over the hapless Cavs Saturday in Charlottesville.
UVa. (2-6, 0-4 ACC) lost for the fifth straight time despite forcing five Georgia Tech turnovers and committing just one turnover, that one coming in the final two minutes when the outcome had already been decided. The Cavs also got a solid effort from quarterback David Watford, who threw for 376 yards and two touchdowns and had the UVa. offense moving consistently all game long.
Problems in the red zone that have plagued Virginia all season long reared their head again on Saturday. Virginia managed to get two touchdowns and a field goal in five red zone trips, but left points on the board on a pair of failed plays ending drives in scoring position.
The first came in the first quarter when coach Mike London decided to go for it on fourth-and-short after a Georgia Tech penalty on a field-goal attempt. A Watford pass was incomplete, ending that scoring drive.
The second was the kind that reminded critics among the UVa. faithful of past boneheaded London blunders. With a first-and-goal at the Georgia Tech 2 with 16 seconds left and one timeout, Virginia ran Kevin Parks for one yard. London, for some reason, waited until there were six seconds on the clock before calling timeout, and then on second down ran Parks for no gain, allowing the clock to expire with UVa. getting nothing for its efforts.
The Yellow Jackets (5-3, 4-2 ACC) extended the lead to 21-10 on a Zach Laskey 4-yard TD run at the 4:54 mark. Virginia pulled to 21-17 on a 5-yard TD pass from Watford to Darius Jennings 15 seconds into the fourth quarter.
Georgia Tech then added some distance on a 65-yard scoring run by Robert Godhigh with 12;46 left.
UVa. cut the margin to 28-25 on a 12-yard TD pass from Watford to Jennings and a two-point conversion pass from Watford to Khalek Shepherd at the 3;23 mark.
The Cavs D needed one more stop, but couldn't get it. Tech scored on a 29-yard run by David Sims on a third-and-two play with 1:55 to go to seal the deal.
UVa. completes a three-game homestand on Saturday against ninth-ranked Clemson.
Game Notes: Watford was 43-of-61 passing for 376 yards … Georgia Tech gained 507 yards of total offense, 394 on the ground. The Jackets had three runners over 100 yards on the day – Laskey at 133 yards, Godhigh at 111 and Sims at 107.