Led by career scoring nights from Bryon Allen and Jalen Jenkins, the george mason men's basketball team picked up its first win of 2014 Thursday night, defeating Penn 80-77 in the Patriot Center. The win pushed the Patriots to 7-6 overall this season with one non-conference game left, while the Quakers dropped to 2-9.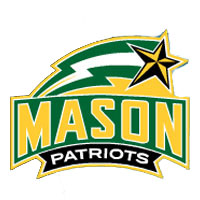 Allen led all scorers with a career-high 24 points on 6-of-9 shooting and a perfect 11-for-11 effort at the free throw line. Jenkins broke his previous career-best, chipping in 10 points and leading the team on the glass for the third straight game with six rebounds. Patrick Holloway finished the night 4-of-7 from three-point range to add 18 points to the board, one point shy of matching his career-high.
The Patriots shot 72.2 percent from the charity stripe (26-36), 45.3 percent from the field and won the rebounding battle, 36-30. Mason's bench outscored Penn, 34-9, led by a combined 28 points from Holloway and Jenkins.
Tony Hicks led the Quakers with 23 points followed by Fran Dougherty and Miles Cartwright with 17 and 16 points, respectively.
Penn used a 10-0 run early in the first half to open an 18-8 lead with less than six minutes expired on the clock. Mason would quickly bring it back to a four-point ballgame less than three minutes later as the Patriots continued to chip away. Allen tied the game at 39-all hitting a jumper with 51 seconds as Cartwright gave Penn a 41-39 halftime lead with the final bucket of the half.
Mason took its first lead of the game since the beginning of the first half on an Allen three-point play at 17:12 in the second half. Penn would tie the score twice more in the second half, but the Patriots would never trail as Penn's late rally fell short. Trailing by eight with two minutes to play, Penn cut it to three points with an 8-3 spurt. Hicks attempted a trey in the final second, but it was off mark as Mason sealed the 80-77 win.
Mason visits former conference foe Old Dominion on Saturday, January 4. Game time is slated for 7 p.m. in Norfolk.