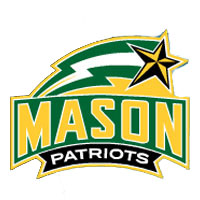 Junior guard Patrick Holloway scored eight points in the final 35 seconds to cut George Mason's double-digit deficit, but it was not enough to rally back as Cornell topped men's basketball 68-60 in the season opener for both teams Friday night. Holloway finished as the game's leading scorer with 22 points.
Cornell shot 44.7 percent (21-47) from the floor, including a 50.0 percent effort from three-point range (9-18), while holding the Patriots to a 30.9 percent (21-68) shooting effort. Mason drained seven three-pointers led by Holloway with four. The Big Red saw the majority of its offensive effort come from Shonn Miller and Robert Hatter, each scoring 21 points in the contest as Miller posted a double-double with 13 rebounds. Cornell converted 17 of 28 free throws, while the Patriots were 11-of-21 at the charity stripe.
Shevon Thompson led George Mason on the boards, pulling down 10 of Mason's 38. Cornell won the battle on the boards, 46-38. Marquise Moore finished with eight points, seven assists and six rebounds for the Patriots. Mason committed just five turnovers in the game and forced the Big Red into 16 miscues.
Cornell came out taking a six point lead early in the contest before the Patriots knotted it up at 8-all on a Jenkins bucket at the 15:27 mark. Falling behind by eight, Vaughn Gray sparked an 11-2 Patriot run capped by a Holloway triple that gave the Patriots their first lead of the game, 21-20, with 5:33 to play. Mason kept the game close the remainder of the half, but a pair of treys from Miller to close the half left the Big Red with a 35-31 halftime advantage.
Converting their first three possessions of the second half, the Big Red took a double-digit lead, 41-31, just over two minutes into the period. Connecting from beyond the arc, freshman Isaiah Jackson would bring Mason back to within six points, 45-39, with 12:05 to play, but that would be the closest the Patriots would come the remainder of the game. Cornell extended its lead to 16 as Mason was trailing by 15 before Holloway ignited for eight points in the final 35 seconds to account for the final 68-60 score.
Mason returns to action welcoming its second Ivy League opponent in Princeton on Sunday. Tip time is slated for 1 p.m.