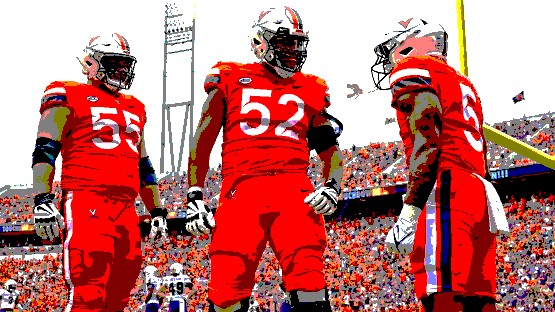 A longtime rivalry will be rekindled when Virginia and Maryland kick off Friday night in primetime at SECU Stadium, as it will mark the first meeting between the former Atlantic Coast Conference foes in a decade.
It's been a dozen years since UVA won a game on a Big Ten opponent's home turf — the Hoos defeated Indiana in Bloomington during the 2011 campaign. That was also the last year that the Cavaliers beat Maryland, as QB Michael Rocco led Virginia to 24 unanswered points to finish the game after the team fell behind 13-7 in the second quarter.
As they say, that was then; this is now. The Terrapins (2-0), who left the ACC for the Big Ten following the 2013 season, currently own the nation's third-longest win streak (10 in a row) against non-conference opponents — which dates back to the 2019 season — after rallying to defeat Charlotte last weekend. Only Georgia (19) and Wake Forest (11) have longer stretches against non-league foes.
The Cavaliers (0-2), meanwhile, let an 11-point lead slip away in the fourth quarter Saturday, falling by a point, 36-35, to James Madison in the emotional home opener. The Cavaliers haven't won a game since Oct. 20 of last season at Georgia Tech. Another loss on Friday night (7:05 p.m., FS1) would extend the UVA losing streak to six games and would give the Wahoos their first 0-3 start since 2016.
Maryland had an easy 38-6 win over Towson in Week 1, but then had to rally from behind to eventually get past the 49ers last week, 38-20.
The Terps trailed by a 14-0 margin heading into the second quarter — Charlotte added a pick-six just 10 seconds after scoring the game's first touchdown. Maryland answered with three Jack Howes field goals to trail by only five at the break, and then took control in the second half.
"We've kind of got to enjoy it now, get recovered; as a coaching staff, we've got to put this one to bed pretty quickly and start our preparation for UVA," said Maryland head coach Michael Locksley.
In his postgame comments on Saturday, Locksley also said his Terps "didn't meet the standard" of starting fast and finishing strong.
"We didn't do either one of those things," he admitted, "and were still able to come away with a pretty good win. … Nobody in the locker room is excited about how we played, but we overcame some early adversity, which kind of showed me that we're the type of team that I thought we could be."
Locksley said he was proud of his troops for not getting too worried about the early deficit.
"I've been in a couple of games here like this where we didn't do the necessary things to get it right before the end of the game," he said, "and today I saw us take steps forward, playing from behind against a good team. I didn't see anybody panic, I didn't see anybody looking at the scoreboard with big eyes. We knew what we did wrong, we knew what we needed to get corrected."
Maryland used a balanced attack against Charlotte, racking up 530 total yards on the evening. Preseason All-Big Ten quarterback Taulia Tagovailoa threw for 287 yards (one touchdown, two interceptions) and the team rushed for 243 more. Most of that ground production came from the duo of sophomore Roman Hemby (217 all-purpose yards; 162 rushing) and junior Colby McDonald (73 rushing yards), who each found the end zone in the second half.
The Terrapins also feature a solid stable of receivers, with redshirt-junior tight end Corey Dyches (139 yards, TD) leading the charge through the first two games. Redshirt-senior wideout Jeshaun Jones (102 yards, TD) and junior Kaden Prather (98 yards, 2 TD) also provide reliable options down the field.
Tagovailoa, a redshirt-senior who transferred from Tuscaloosa after one year, has eclipsed just about every Maryland all-time passing record you can think of, and he was included on the Maxwell Award, Davey O'Brien Award and Manning Award preseason watch lists. His older brother, Tua, had a successful career at Alabama and is now QB1 for the Miami Dolphins.
Locksley, who was with the Crimson Tide a few years back when Tua was on campus, talked about the similarities between the two.
"When you look at the quarterback play of those two, both really accurate passers, both great footwork, both have the ability to extend plays," he said. "I think [Taulia] is maybe able to scramble around a little bit better and maybe extend plays a little better and become more of a runner, whereas Tua is one of those guys that gets it out quick and he extends plays in the pocket.
"But the one common denominator is Galu Tagovailoa, the dad, who has raised both those guys to be quarterbacks. They had great foundational training at the position, and you see both of them having great success wherever they've been."
On the opposite sideline, UVA will be going with senior transfer Tony Muskett to start at quarterback Friday night, as confirmed by OC Des Kitchings on Wednesday morning.
Muskett left the season opener against Tennessee with a shoulder injury and did not recover in time for JMU. Anthony Colandrea filled in admirably against the Dukes, setting a UVA freshman record with 377 yards and a pair of touchdowns in the loss on Saturday, but Elliott stated afterwards that he doesn't believe in a starter losing his job to injury. Locksley said that his defense will be prepared for either quarterback this weekend.
"Muskett may be back, so we're kind of preparing for both of those guys," said the coach, "but I was really impressed with the true freshman out of Florida with how he was able to come in and kind of provide a spark for them."
A native of the DMV area, Locksley is in his third stint with the Terrapins. He was the Maryland running backs coach and recruiting coordinator from 1998-2002, then returned as offensive coordinator and quarterbacks coach from 2012-15. After winning the Broyles Award for the nation's top assistant coach under Alabama's Nick Saban in 2018, Locksley accepted his first head-coaching position with the Terps the following season.
UVA head coach Tony Elliott actually presented Locksley with the Broyles Award, after he had won it the year before while helping lead Clemson to its third national championship. Locksley explained in his press conference Tuesday how he and his counterpart on Friday have bonded over the years, and how much respect he has for the Cavalier program.
"I've gotten to know Tony really well, obviously [from] my time at Alabama, him at Clemson," he said. "We've gotten to know each other there. … I've been really impressed with the way he's managed his team through some of the tragedy they had a year ago. Tony is one of those all-around good guys."
Maryland, which leads the all-time series with Virginia (45-32-2), is a 14.5-point favorite for Friday's contest. UVA has taken three of the last four meetings in College Park, dating back to the 2007 season.
"Obviously, Virginia is a familiar foe, a former ACC rival," said Locksley. "Having been here at Maryland for over 15 seasons and been a part of some of those games, they're important games for us."