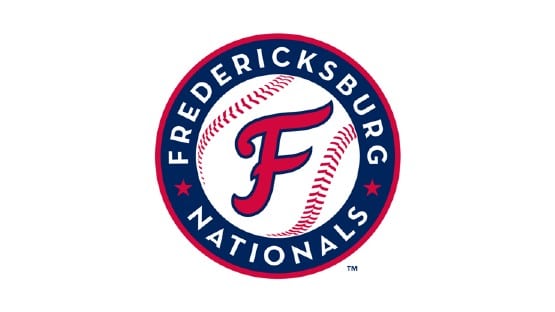 The Fredericksburg Nationals erupted for eight runs in the fifth inning, as they took down Delmarva, 9-2, on Wednesday.
Just two pitches into the game, Delmarva, the Low-A affiliate of the Baltimore Orioles, took a 1-0 lead as Angel Tejada singled and Carter Young doubled against Riley Cornelio.
That score held until the top of the fourth inning, as Cornelio found his rhythm. The right-hander struck out the side in the second, and racked up two more in the third. But in the fourth, Stiven Acevedo singled and stole second base, before taking third on a wild pitch. Erison Placencia drove Acevedo in with a double, but Cornelio limited the damage there.
In the bottom of the fourth, Paul Witt crushed his fourth home run of the season to make it 2-1 Delmarva.
After Miguel Gomez worked a scoreless top of the fifth, the flood gates opened for Fredericksburg, the Low-A affiliate of the Washington Nationals, in the home half. Branden Boissiere walked to begin the frame, and Cortland Lawson singled behind him to prompt a pitching change. Randy Beriguete entered, and immediately gave up a bunt single to Wilmer Perez to load the bases with nobody out.
Brenner Cox then gave the Freddies the lead with his two run single back up the middle. After Cox, Daylen Lile scorched an 0-1 pitch all the way to the wall in left-center for a triple to drive in two more runs as the Nationals pulled ahead 5-2. Sammy Infante made it 6-2 with his single in the next at-bat, then Brady House singled and Paul Witt walked to load the bases again.
Elijah Green drew a four-pitch walk to force in a run which made it 7-2. Finally, a pair of RBI groundouts from Boissiere and Lawson pushed the Nationals ahead 9-2. All told it was an eight-run, seven-hit frame for Fredericksburg.
From there, the FredNat bullpen continued their strong form during this winning streak. Gomez worked through the top of the sixth scoreless, Juan Abreu worked two spotless frames of his own with five punchouts, then Matt Merrill slammed the door in the ninth for a 9-2 Fredericksburg win.
Gomez earned his fourth win of the season, with Juan Nunez taking the loss.
Bryan Sanchez takes to the hill tomorrow for Fredericksburg, against Delmarva's Moises Chace in a 7:05 start for Thirsty Thursday.