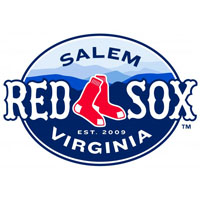 The Frederick Keys used a eight run second inning to beat the Salem Red Sox 9-7 at Harry Grove Stadium. Joe Van Meter got the victory, despite allowing nine hits and six runs in five innings of work. Cody Kukuk got the loss for Salem, getting roughed up for seven runs and five hits in one and two thirds.
The Red Sox scored in the top of the first inning for the third consecutive game. Matty Johnson led off with a walk, stole second and third, and scored on a single by Michael Miller. Then with two outs and Miller still on first, Carson Blair pounded a two-run home run to dead center field to give the Sox a 3-0 lead.
But just as it had the last two nights, the first inning lead would not last. Kukuk started the Keys second by allowing a single to Michael Burgess. Then consecutive walks to Jason Esposito and Brenden Webb loaded the bases, and a single by Adrian Marin cut the lead to 3-2. Then Pedro Perez, Glynn Davis and Tucker Nathans would all drive in runs on a single, double and fielder's choice to give Frederick the lead at 5-3. After another single to Creede Simpson, Kukuk was pulled for Justin Haley. Haley's sixth pitch out of the 'pen was blasted over the right field wall by Burgess to give the Keys a 8-3 lead.
Haley would settle down from that point, going six and a third, surrendering just two runs on six hits and striking out seven.
The Sox would battle back into the game in the fourth. After a lead off double by Mario Martinez and a single by Kevin Heller, Aneury Tavarez pounded a long home run off the scoreboard in right field to bring the Sox within 8-6. Salem would add another run via the home run in the sixth. Tim Roberson hit his first home run since April and second of the year to cut the lead to 8-7.
Frederick added an insurance run off Haley in the bottom of the sixth. Brenden Webb led off the frame with a double. He moved to third after Haley threw a wild pitch on strike three to Adrian Marin, and scored on a single by Pedro Perez. That would be enough for Frederick to hold on for the 9-7 win.
Salem's loss is its third straight, and the Sox have won just one road game since May 17th. Salem tries to avoid the sweep tomorrow at 7:00. Luis Diaz gets the ball for the Sox and Mark Blackmar goes for the Keys.