Another college football coach has made money because of interest from Texas. Florida State announced today that it has agreed to extend coach Jimbo Fisher's contract through January 2019.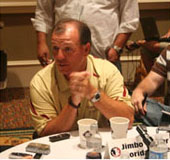 "We are extremely pleased with the direction of our program and believe that this new contract will assure that Coach Fisher is in place to lead the Seminoles for a long time to come," said FSU athletics director Stan Wilcox. "Coach Fisher enjoys the full support of the leadership of the university and we look forward to the continued success of our football program on the field and in the classroom."
Fisher has led Florida State to a 13-0 record this season and is 45-10 overall in four seasons at the school. The top-ranked Seminoles face #2 Auburn (12-1) in the national championship game on Monday, Jan. 6.
The new five-year deal is worth $21 million, a raise of more than $1.3 million a year over his current salary of $2.75 million a year.
The deal also includes a higher buyout if Fisher were to decide to leave FSU.
Published reports have had Texas showing some interest in Fisher. Earlier interest in Alabama coach Nick Saban came to a conclusion when Saban signed an extension with the school worth more than $7 million a year.