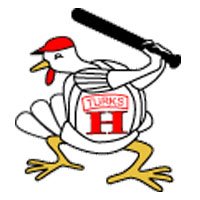 A five-run, fifth-inning explosion powered the Harrisonburg Turks past the New Market Rebels 8-3 on Friday night.
The Turks held a 2-0 lead going into the bottom of the fifth before Thomas Smith lead off with a triple.  He was followed by a Thomas Spitz RBI bloop single, a Matt Rose 2-RBI single through the left side, an Eric Kalbfleisch RBI triple and a Jesse Baker RBI bloop single.  The barrage of hits gave the Turks a 7-0 lead.
Tanner Shelton earned his first win of the season in his 11th appearance and third start.  He threw seven and two thirds innings, struck out three batters and allowed just two runs, both of which came in the eighth inning.
The Rebels scored all three of their runs in the eighth inning, but their rally was stopped by J.R. Holloway who recorded the final four outs of the game.  The Turks added an insurance run in the bottom of the eighth inning when Smith scored on a wild pitch.
The Turks improve to 28-13 and can clinch the pennant, and home field advantage throughout the playoffs, with a win in either of their two remaining games.  They host Covington at 7:30 on Saturday and travel to Covington to play the Lumberjacks at 7:00 on Sunday.