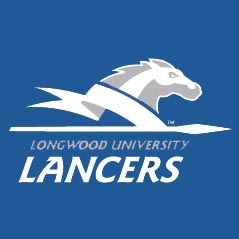 It was just one game ago that Longwood junior Leron Fisher, hobbled by an ankle injury, recorded his lowest scoring output as a starter this season. Playing on the injury, Fisher managed just four points on 1-of-7 shooting in a 65-64 loss to Charleston Southern on Saturday.
But what a difference three days can make.
Fisher bounced back from his rare off night in a big way, scoring a game-high 24 points Tuesday to lead Longwood (8-20, 4-11 Big South) past Liberty, 78-72, in the Vines Center. It was the fourth 20-point game of the season for Fisher, all of which have come in conference play.
"He was due," said Longwood head coach Jayson Gee, who improved to 3-1 against Liberty. "He was banged up and he got in some foul trouble [against Charleston Southern], which I thought slowed him down. I believe if we would have had Leron at full strength, I think the result on the scoreboard that game would have been different. He really performed tonight. He attacked early, he got the ball inside and he finished at the basket. He was outstanding for us out there."
The 5-11, 160-pound Fisher hit 9-of-14 shots from the field, including several layups in traffic against a Liberty team that ranks among the biggest in the Big South. He did damage from beyond the arc, hitting 3-of-5 three-pointers, and on the defensive end with four steals.
Fisher's bounceback performance mirrored that of the Lancers, who turned in one of their best offensive performances of the year Tuesday despite entering the game on a four-game losing streak. Longwood had lost their last two games by a combined six points, but like Fisher's ankle injury, they got over it. The Lancers shot .490 (25-of-51) from the field and .476 (10-of-21) from three-point range while keeping the rebounding margin close at 33-29.
"Our guys have hung tough all year and they haven't gotten down regardless of how many points have been on the scoreboard," Gee said. "They've done an outstanding job of fighting every game. If you watch us practice and watch us play, it's not indicative of our record. They don't feel sorry for themselves. They just continue to compete."
Longwood led by as much as 20 points before Liberty (7-21, 1-14 Big South) mounted a late run to cut the deficit to single digits with under three minutes to play. Fisher and Quincy Taylor held off the late charge though, combining to score Longwood's final seven points to hold off the charge.
While the victory pushed Longwood into ninth place in the league standings and one game behind a top-eight seed in the conference tournament, it carried far more significance for a team establishing relevancy in their third year in the Big South. Not only was the win Longwood's first in the Vines Center since the Liberty arena was constructed in 1990, it marked the first time since 1987-88 that the Lancers beat Liberty twice in the same season and matched Longwood's win total from Gee's first season last year.
Even with Fisher leading the charge on both ends of the floor, several Lancers shared the spotlight. Shaquille Johnson threw down three highlight reel dunks as part of an 18-point performance, Damarion Geter grabbed a career-high 10 rebounds and freshman guards Ryan Badowski and Kanayo Obi-Rapu combined for 17 points and 4-of-7 shooting from three-point range.
The effort came in Longwood's final road game of the regular season. The Lancers head into the Big South Tournament on a three-game homestand, beginning Saturday against Winthrop at 5 p.m. in Willett Hall.
"With three games at home left, we feel pretty good, but right now we just have to regroup and take it one game at a time," Gee said. "I just challenged our players and told them with three games left – all at our place – what a great chance this is to finish strong and get ready for the tournament."