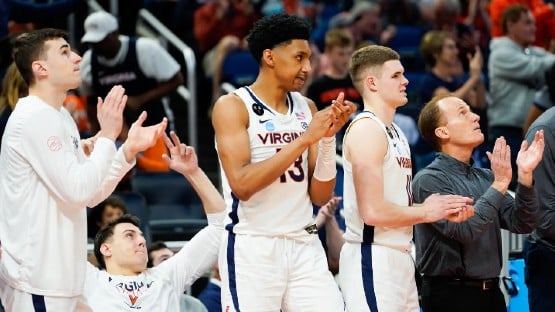 If things go right in the last 12 seconds this time last week, Virginia could be getting ready for a Sweet 16 matchup with Alabama tonight in Louisville, but that's March Madness for you.
Virginia is instead now a week into the silly season of college basketball, notably with no leak-outs to the transfer portal, not yet, though it's not because of lack of rampant speculation about not only if, but when, and how many.
At this stage, we know this much: Kihei Clark, who surprisingly didn't make a jumper in University Hall, given how long he has been around, is done, as are Jayden Gardner and Ben Vander Plas.
Francisco Caffaro could have a sixth year, but he's indicated that he doesn't intend to use it.
Outside of those four, it's all question marks at this point.
What do Tony Bennett and Co. have to build around for 2023-2024?
Backcourt
I'm using the breakdown of the roster from the way Bennett builds his offense – around three guards and two forwards.
The first question is the status of Reece Beekman, who was getting some first-round mock draft love earlier in the season, but that was before his season went off the rails a bit with his ankle and hamstring injuries that slowed down his hot start.
He still ended up being named the ACC Defensive Player of the Year, but his counting numbers on offense – 9.5 points and 5.3 assists per game, 40.5 percent shooting from the floor, 35.1 percent shooting from three – are very, very modest.
The best I'm seeing Beekman in the most recent mock drafts is late second round, which is risky for a guy who has eligibility left, given that second-round picks don't get guaranteed contracts or even necessarily NBA jobs (think: Kyle Guy).
The expectation is that Beekman will return for his senior season, with an eye on continuing to showcase his improved shooting with his new running mate.
That new running mate: Dante Harris, formerly of Georgetown, who transferred in at the Christmas break, and practiced with the team in the second semester as a redshirt.
Harris, a 6'0" point guard, averaged 11.9 points and 4.1 assists per game at Georgetown as a sophomore in 2021-2022, on high shot volume (12.0 field goal attempts per game), and low shooting percentages (37.5 percent from the field, 27.5 percent from three).
He's a great complement to Beekman defensively (Harris averaged 1.5 steals per game as a sophomore), and everything I've been hearing about him in terms of his integration into the culture with Virginia basketball has been positive.
I'm hearing that last season's leading scorer, Armaan Franklin, wants to come back for his COVID redshirt season, which would be great news.
The 6'4" four-year guy has averaged double-digits in scoring in each of his two seasons at UVA, and improved his shooting dramatically last year, particularly from three (29.4 percent in 2021-2022, 37.3 percent last year).
I'd still expect Franklin to be pressed for minutes at the third guard spot by rising sophomore Isaac McKneely (6.7 ppg, 42.3% FG, 39.2% 3FG), who averaged 21.5 minutes per game in 2022-2023, the most for a freshman in the Bennett era since Clark (26.8 minutes per game, 4.5 points and 2.6 assists per game in 2018-2019) and, before that, a guy named Malcolm Brogdon, who averaged 22.4 minutes per game way back in 2011-2012.
Brogdon's counting numbers that year: 6.7 points per game, 39.6 percent shooting from the floor, 32.4 percent shooting from three.
This would be my assumption as to the four-man rotation in the backcourt for next year – Beekman, Harris, Franklin, McKneely.
The wild cards in the backcourt are the status of 6'5" rising junior Taine Murray, who was largely an afterthought this season, until he earned brief rotation minutes late in the season, including getting 11 minutes in the NCAA Tournament loss to Furman; Leon Bond III, a four-star 6'5" guard-forward who redshirted in 2022-2023; and incoming freshman Elijah Gertrude, a four-star 6'3" guard, who suffered a torn ACL in November, but is expected to be a full go in terms of preseason prep by summer.
Of note is that there are reports that the staff has been in contact with Wofford freshman Jackson Paveletzke, a 6'3″ guard who averaged 15.1 points and 3.7 assists per game in 2022-2023, and shot 49.3 percent from the field and 39.3 percent from three.
The reach-out here strikes me as curious, perhaps as a hedge against Beekman deciding to declare for the NBA Draft, or maybe for Franklin deciding to forego his COVID senior year or hit the transfer portal.
Frontcourt
Gardner (12.0 ppg, 5.8 rebounds/g) and Caffaro (2.0 ppg, 1.8 rebounds/g) are gone, and up in the air right now, according to the interwebs, is the status of Isaac Traudt, a four-star 6'10" stretch four who redshirted this past season.
I'd also wonder about the status of 6'11" redshirt junior Kadin Shedrick (6.2 ppg, 3.8 rebounds/g, 64.7% FG), who rode the pines for a couple of months after losing his starting job, then re-emerged late in the season after Vander Plas (7.4 ppg, 4.6 rebounds/g, 41.2% FG, 30.3% 3FG) had his season cut short by a broken right hand sustained in practice on the eve of the ACC Tournament.
Assuming Shedrick and Traudt are back, those two would be competing for minutes at the four and five spots with 6'8" rising sophomore Ryan Dunn (2.6 ppg, 2.9 rebounds/g, 12.9 minutes/g), who got consistent rotation minutes beginning early on in his freshman season.
Also expected to compete for minutes up front would be incoming freshman Blake Buchanan, a 6'9" four-star recruit.
It's notable here that the staff has cast its net to a few bigs on the transfer portal, including 6'10" Albany freshman Jonathan Beagle (12.4 ppg, 7.5 rebounds/g, 2.1 assists/g, 50.5% FG, 26.9% 3FG), 6'8" Merrimack senior Jordan Minor (17.4 ppg, 9.4 rebounds/g, 2.3 assists/g, 51.5% FG), and 6'11" Austin Peay sophomore Elijah Hutchins-Everett (11.5 ppg, 5.5 rebounds/g, 48.0% FG, 32.3% 3FG).
As I said above about the reach-out to the Wofford guard, the business involving transfer portal bigs tells you that Bennett and Co. are probably hedging against losses to the portal, or in this case, trying to find a guy or two with college hoops experience to compete for minutes with the talented but young guys already in the system.
Staff
One other murmur I've been hearing, dating back to the last couple weeks of the active 2022-2023 season, is that there could be interest from somebody on the outside in making a go at one of Bennett's assistants for a head-coaching job.
That's as far as the speculation went, and I'm not even going to venture a guess as to who that somebody might be, just because the word that got to me was that un-specific.
I bring it up here because, this could be a factor to consider heading into next year.
Staff continuity has been among the hallmarks of the Bennett program, but then, it might not be a bad thing if there would be an opening because somebody got a good job opportunity, and that opening could bring in somebody with ideas from the outside.
How about that for a hard hedge?