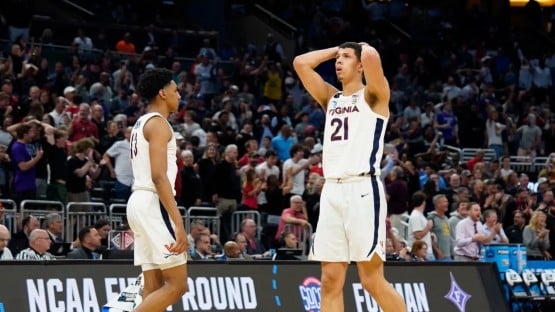 Kyle Filipowski is, surprisingly, returning to Duke for his sophomore season, which has one of Jon Scheyer's five-star recruits, Mackenzie Mgbako, begging out, and almost certainly will impact the next stop for Virginia transfer Kadin Shedrick.
Shedrick, a redshirt junior with two years of college eligibility remaining, had announced over the weekend that Duke was in his top five destinations, along with Kansas State, Missouri, Texas and Xavier.
Scheyer had been on the lookout for an experienced transfer big in anticipation that Filipowski, a projected late first-round NBA Draft pick, would not return.
With Filipowski back in the fold for 2023-2024, it would seem that the roster spot that would have been there for Shedrick, who had reportedly been telling his soon-to-be-former Virginia teammates that Duke was his first choice, no longer exists.
Shedrick, in his 15 starts this past season at Virginia, averaged 9.3 points, 4.8 rebounds and 2.0 blocks per game, shooting 69.0 percent from the floor.
He lost his starting spot midseason to Ohio U. grad transfer Ben Vander Plas, then found himself glued to the bench for the next two months, logging just 107 minutes over a 14-game span in which he was a healthy scratch in three games.
Shedrick's minutes increased when Vander Plas was lost for the season with an injury on the eve of the ACC Tournament, then got his starting job back for Virginia's NCAA Tournament first-round game with Furman, in which he scored 15 points, grabbed 13 rebounds and blocked four shots.
Even with the strong end to his redshirt junior season, it was not a surprise that Shedrick entered the transfer portal, considering how the rest of the 2022-2023 season played out for him.