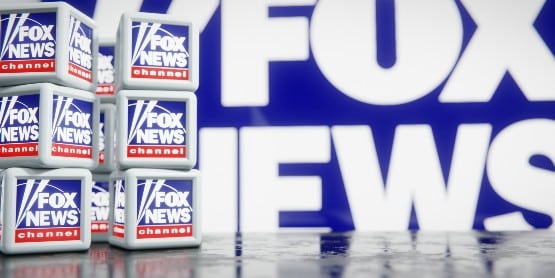 Fox Corp. reportedly provided confidential information about then-candidate Joe Biden's advertisements to former president Donald Trump's campaign.
The revelation was included in recently released court filings involving Dominion Voting Systems' lawsuit against Fox Corp. and Fox News, according to Media Matters for America, a progressive media watchdog group, which filed a complaint with the Federal Election Commission on Friday.
In the complaint, MMFA alleges that Fox Corp. made an illegal corporate contribution to the committee when Fox Corp. Chairman Rupert Murdoch provided information about the Biden campaign's advertisements to the Trump campaign.
"Here, Fox Corporation was not acting as a press entity when Murdoch provided the Committee with the Biden advertisements," the complaint alleges. "Murdoch's actions fail both parts of the Commission's two factor test for whether Fox Corporation was acting in its legitimate press function. First, the Biden advertisements had not aired at the time that Murdoch provided information about it to the Committee and, therefore, the material was not available to the general public. Second, Murdoch provided the Biden advertisements and information to the Committee through a private, and secret, direct communication.
"This 'distribution' is diametrically opposed to Fox Corporation's regular press activity broadcasting news programming through television and radio outlets and online publications," the complaint continues. "Murdoch's secret conveyance of the Biden advertisement is even less like press activity than a cablecasting company sending campaign flyers in its bills – and neither can be protected by the press Exemption.
"Fox Corporation, through Murdoch, appears to have engaged in the exact type of campaign activity to which the Commission has repeatedly affirmed the press exemption does not apply. Therefore, Fox Corporation cannot try to exploit the press exemption to avoid the consequences of making an illegal corporate in-kind contribution."
Angelo Carusone, president of Media Matters for America, said in a statement on Friday that "the FEC has all of the evidence they need to investigate and take action. We urge them to move swiftly."
"Fox News has always been a political operation and propaganda arm of the Republican Party," Carusone said. "But, this time, Rupert Murdoch has gone too far; he's been caught providing direct material support to the Trump campaign ahead of the election — as well as allowing his network to endorse lies designed to overthrow our democracy."