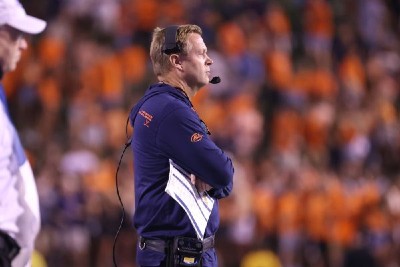 An ESPN.com story by David Hale caught us up with former Virginia football coach Bronco Mendenhall. Reading it made me think, I'm glad that's all over with.
"With distance comes clarity," Mendenhall said, summing up the last several months since his surprise resignation, which has seen him pack up and move west, to Montana, where he is overseeing the construction of "a new home on a quiet lake" and an 80-acre ranch.
Hale obviously spent some a few days with Mendenhall. The extended lede to the story is set in late May, and describes how Mendenhall is training for two half-Iron Man triathlons, fielding calls about business ventures, teaching opportunities and the rest.
In six seasons of covering Mendenhall at Virginia, I got a total of five alone minutes with him, ahead of the Belk Bowl in 2018.
The story from Hale was fine. It paints Mendenhall, accurately, as an oddball in the football world, who would probably prefer to be known for anything else other than being a football coach, that it just happened that he made his millions there.
Mendenhall comes across as ambivalent about the millions he made from football – "You can't say service appropriately and be making $4 million. How is that service or sacrifice?" he was quoted at one point, catching himself making being a football coach more than it is.
Hale paints Mendenhall, in one moment, as not counting down the days until he can get back into football, and then a paragraph later:
"If you're truly interested in developing young people, it's hard to find a platform that is as impactful as college athletics," Mendenhall said. "And granted, that landscape is changing — and changing rapidly.
"As a head coach," Mendenhall said, "the decisions you make to construct the culture and the values of your program can still resonate in a way that's truly authentic and real."
So, maybe he is counting down the days until he can come back.
Hey, the guy took Virginia to the Orange Bowl. Yeah, he was a .500 coach otherwise, but still.
So, why am I glad he's gone? I got tired of having to defend his staff's inability or unwillingness to recruit Virginia, the odd system of having guys have to "earn" their jersey numbers, the odd offense that put the Virginia Tech game last year on the running skills of an offensive lineman, the front seven that couldn't get pressure on a QB or get a hand on a running back.
Mendenhall left Virginia Football better than he found it. That wasn't hard; the previous two coaches had practically burned the operation to the ground.
The new coach actually seems to want to be here, coaching football.
That's an improvement.