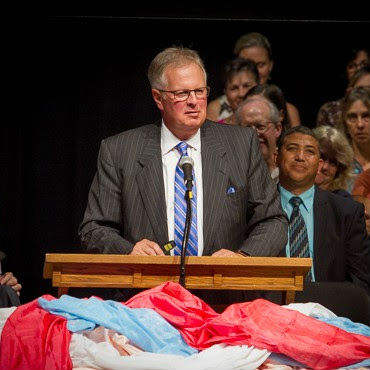 Advent is traditionally a time of unrest, of unease, of latent coming. Yet, as a practicing Christian of some 50 years, a pastor, and the president of Eastern Mennonite University – a Christian university in the Anabaptist-Mennonite tradition – I find this Advent to be one during which I am experiencing a constant call for the presence of Jesus.
The attacks in Paris, recent violent attacks in South Carolina and California in the United States, expressed hatred towards immigrants, and now the sight of another Christian university president urging, in fact condoning acts of violence, to his student body – I feel an obligation to publicly enter this conversation.
The Anabaptist faith has been in this conversation for centuries. Central to our beliefs is the commitment of seeking to literally practice those teachings of Jesus from the Sermon on the Mount and Scripture about justice, peace and non-violence.
Our campus community at EMU continues to prayerfully discern what the peace position means to us in a world beset by violence. That community includes students, faculty, staff and administrators of all faith traditions and also alumni from around the world. EMU has prepared thousands to "serve and lead in a global context;" our globally recognized Center for Justice and Peacebuilding has trained hundreds of peacebuilders, many of whom continue to work in situations of violent conflict.
Following the Paris attacks, I sent an email to the campus community: "This morning I invite all of us to pray for the victims of continuing violence all around the world, and to reflect on our own actions and expressions that contribute to the feelings of isolation and experience of discrimination for those with whom we relate on a daily basis … My prayer today is that each of us will better understand God's call to love God with heart, soul, mind, and strength, and to love our neighbors as ourselves."
That remains my prayer today, as we move forward into an uncertain world.
As the leader of an educational institution that not only teaches the analytic and critical skills of the liberal arts, but also values reflective practice of those skills, I also add, in addition to my invitation to prayer, these calls of action:
A call…
for reaffirmation of the invitation of Jesus and his teachings to love our enemies
for dialogue and engagement with those who are different than us
for greater sensitivity to language that condemns others and absolves us of moral responsibility
for national and local leaders who refuse to articulate simplistic answers to complex societal problems
for U.S. political candidates who dare to call us to our best, and choose not to play to our base fears
Here at EMU, we pledge to
Invite area Muslim and Christian leaders to explore how to jointly confront the local, national and global challenge of religious intolerance.
Invite leaders of regional higher education institutions into a similar dialogue.
Continue to train students, practitioners and global leaders in the principles of restorative justice, trauma resilience, peacebuilding, interfaith engagement and organizational change.
May God's Kingdom come on earth even as it is in heaven!
Statement by Loren Swartzendruber