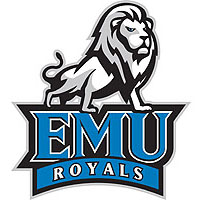 It was the end of a long day of soccer on EMU's Turf Field, but an incredibly satisfying one. Junior Jake Lind (Harrisonburg, Va./Eastern Mennonite) punched home the game-winner with 4:47 left in double overtime, giving the soccer men a 2-1 win over Southern Virginia in their home opener Wednesday night.
The win came on the heels of Eastern Mennonite's women settling for a 1-1 double OT tie, also with Southern Virginia.
The men's win was a thrilling conclusion to a wild rollercoaster of emotions. After 88 minutes of scoreless, but at times heated, soccer, SVU scored with just 1:39 left in regulation. The Knights drew a foul outside of the box and the resulting free kick glanced off the post and into the net for a 1-0 lead.
Despite the late score, the Royals didn't give up. They quickly moved to the attack, with Lind firing a shot from inside the box. SVU's keeper made a block, but David Hooley (Bluffton, Ohio/Bluffton) was right there for the rebound and equalizer, scoring with 50 seconds left.
Neither team found the net in the first 10-minute OT session, and the second OT was void of any shots until Lind's game winner. He was set up by high school teammate Mark Mast (Harrisonburg, Va./Eastern Mennonite), who dribbled the ball into the box before serving it back to a wide-open Lind at the top.
His rip to the right side of the net electrified the EMU bench and sent an enthusiastic handful of fans running onto the field in celebration.
Eastern Mennonite had a sizeable 22-13 advantage in shots, including 11-4 on goal. Matthew Overacker (Mount Crawford, Va./Turner Ashby) made three saves after taking over in goal at halftime. Andrew Yoder (Harrisonburg, Va./Eastern Mennonite) played the first 45 minutes.
Lind led both teams with four shots on goal. Jonathan Bush (Pottstown, Pa./Owen J. Roberts) put up six shots, including three on goal.
Now 2-1, the Royals stay at home this weekend, hosting Frostburg State on Saturday at 2:00pm.