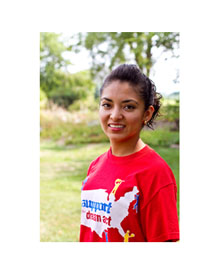 Isabel Castillo, a 2007 graduate of Eastern Mennonite University, was one of 21 recent graduates and current students from universities – all undocumented immigrants – from around the United States
who were arrested for acts of non-violent civil disobedience at the U.S. Senate Hart Office Building on July 20.
All of them were brought to the United States as children. They have been raised and educated here – this is "home" to them, since few can recall living anywhere else, Castillo said in an interview at EMU, three days after she was booked and released.
Castillo chose to be arrested, along with four young adults from Arizona, California, Illinois and Texas, by refusing to leave the office of Senate Majority Leader Harry Reid, D-Nev., when requested to do so by his staff members.
The protesters initially were welcomed when they visited Reid's office to ask him to put the DREAM Act – which stands for Development, Relief and Education of Alien Minors – to vote in the Senate before the end of this legislative session of Congress.
"I have been waiting quietly since this legislation was first debated in Congress in 2001," Castillo said. "Looking ahead, I do not think there is going to be a better opportunity than the present to get this legislation passed. I cannot stay quiet anymore."
EMU president Loren Swartzendruber and provost Fred Kniss have both spoken in support of Castillo's efforts. "The DREAM Act is an important and necessary piece of legislation, and I have written to our Virginia senators encouraging its passage," said Swartzendruber. "We are glad that one of our alumni is working so courageously to promote the DREAM Act."
Without the DREAM Act, Castillo cannot obtain a social security number. She cannot work legally and thus cannot use her social work degree to support herself. She cannot get student loans if she wishes to continue to graduate school. She cannot even marry someone legally living here and be certain that she would ever be allowed to join her husband as a legal resident. She cannot travel outside of the United States and be able to return to her hometown of Harrisonburg.
For years, Castillo has lived in the shadows in Harrisonburg, getting by with casual work such as babysitting. "I am tired of living like this. I want to have an opportunity to do the right thing – to get in line for [legal] residency and to prove myself worthy of it," she stated. "[But] I am not just doing this for me; I am doing this for the 65,000 undocumented students who graduate from U.S. high schools each year and who have no future the way things are now."
Castillo has decided to gamble that speaking up with her real name – telling her real story to the public wherever possible – will yield better results than continuing to stay in the shadows. She takes solace in a favorite Spanish quotation – "Dios aprieta pero no ahorca" – which roughly means that God won't place more on her than she can bear.
Castillo said Reid's Senate staffers pleaded with the protesters not to force them to call in law enforcement officers on July 20. The staff even got Rep. Luis Gutierrez, D-Ill., on a speaker phone to try to persuade Castillo and her fellow protestors not to risk arrest. (Gutierrez himself was arrested at a May 1 protest before the White House – he said he would not move from the White House fence until he was arrested or until comprehensive immigration reform was signed.)
Castillo listened politely to Rep. Gutierrez, knowing he was sympathetic to her cause. But she and her fellow protesters – including a dozen that Castillo led from Harrisonburg – had previously decided that they must speak up now.
Castillo was born in Mexico and brought to the United States by her parents at age 6 without proper papers. Basically, if a child is brought into the United States in such a manner, there is no method for becoming a documented resident in later years, regardless of his or her academic accomplishments or social contributions.
Like all "undocumented immigrants," Castillo is at constant risk of deportation to the country where she was born, a risk undoubtedly heightened by her decision to go public with the difficulties that she and hundreds of thousands like her face.
Castillo views herself as an "American" in every way except for having, as she puts it, a nine-digit social security number. She has few recollections of her pre-school life in Mexico. All of her formal schooling took place here. She graduated from Turner Ashby High School south of Harrisonburg with a 4.0 GPA. She graduated magna cum laude from EMU.
Castillo says she could not have made it through EMU without the help of two married employees – Deanna Durham, assistant professor in the applied social sciences department, and Byron Peachey, associate campus pastor. The couple has remained supportive since Castillo graduated three years ago. When she needed help with getting her group to and from Washington D.C., for example, Durham and Peachey drove the group.
Under the DREAM Act, undocumented young immigrants would be given a path to legal residency if they contribute to the United States by serving in the military or getting a college education. The process would still be arduous – it would take at least six years and perhaps as much as a decade – for a young person to satisfy all the requirements for getting a "Green Card." Yet Castillo said she would welcome such a path, no matter how hard or long, because at least the path would be there.
In a Washington Post article the day after the arrests, Margie McHugh, co-director of the nonprofit Migration Policy Institute's National Center on Immigrant Integration Policy, was quoted as saying: "It is a bit of a surprise to see how bold and open a lot of the young people are about their status, and that's changed from the past."
The Post noted, however, that there are definite risks: "In Arizona [in early May] … undocumented students staged a protest in front of Republican Sen. John McCain's office. Three were arrested and are in deportation proceedings."
McHugh told the Post: "I think it's not possible to say yet if it's a safe or an extremely risky thing for them to do. They are taking a great risk in putting themselves out there so publicly. In the end, they'll be judged to have been quite prescient if the law does end up happening and naïve if it doesn't."
 
 
Story by Bonnie Price Lofton. Lofton is the publications editor at Eastern Mennonite University.