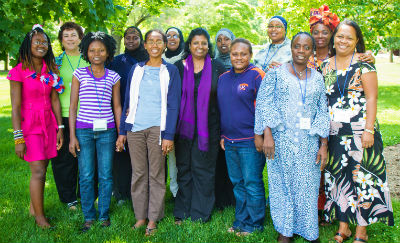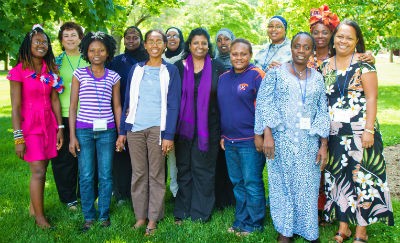 Ebola is frightening – terrifying even – but bowing to the fear that Ebola can produce invites additional unrest and cultural destruction in societies already reeling from recent civil wars. Instead, a lasting solution will emerge from tapping the resilience and resourcefulness of the people themselves.
These are the messages being spread by alumni of the Center for Justice in Peacebuilding (CJP) of Eastern Mennonite University who are working in West African countries affected by Ebola.
"Local communities should not be seen simply as the source of problems or as victims," writes Libby Hoffman in an Alliance for Peacebuilding article published this month (January 2015). "Ebola is not just a medical problem – it is a community problem, and this dimension is being largely ignored within the current international response."
Liberian peacebuilding alums Nathaniel Walker (CJP MA '10) and Gwendolyn Myers (CJP Grad. Cert. '14) offered similar sentiments in commentaries published in The Guardian and the Liberian Daily Observer, respectively.
Nathaniel Walker
Liberia's Nathaniel Walker, MA '10 in conflict transformation
"Communities that have taken Ebola prevention and control matters into their hands have recorded [a] significantly low number of cases," wrote Myers in a Dec. 11 commentary. "Whereas, in communities that are yet to fully embrace the outbreak and to take action to avoid infection, we have seen an increase in transmission."
Local efforts include developing the Pen-Pen Peace Network, an initiative of motorcycle taxi drivers. The Network has communicated about Ebola prevention through text messages, billboards, social media and loud speakers, distributed 3,000 fact sheets through communities, and built handwashing sanitation stations for citizens, wrote Walker and co-author Kai Kuang in an Oct. 15 commentary.
Women are playing important roles
In another grassroots initiative, Vaiba Flomo (CJP Grad. Cert. '13) has rallied her close-knit Rock Hill community in Monrovia – where many of the 25,000 adults and children survive by hand-crushing rocks to sell for construction projects – to do health education. With her women's team (called GSA Rock Hill Community Women), Flomo has distributed buckets, chlorine, and soap to various groups and centers where youths and adults typically gather, including clothing shops, prayer bands, video clubs, and drug stores. In an impoverished community largely ignored by governmental agencies, Flomo and her team have received funding from the Gbowee Peace Foundation Africa.
Liberia is still recovering from a brutal civil war (as is Sierra Leone, one of the other West African countries hit hard by Ebola). For Walker and Myers, community-driven efforts toward Ebola prevention are vital not only to eradicate the disease, but to preserve the fragile peacebuilding steps that have been taken in recent years to heal these communities. (Guinea, the third West African country widely affected by Ebola, has suffered from political violence, but not outright civil war.)
In both Liberia and Sierra Leone, peace remains tenuous and distrust runs high (in many of these communities victims and perpetrators are living side-by-side), so fighting Ebola is intimately tied with communities' ability to transcend past transgressions and develop open and honest communication.
"Lack of trust within communities is the unseen but powerful inhibiter of Ebola prevention and treatment initiatives," writes Hoffman, whose charitable foundation, Catalyst for Peace, is the main U.S. backer of Fambul Tok, a Sierra Leonean peacebuilding initiative.
"Conversely, empowered and trusted local voices and leadership magnify the success of prevention efforts, and they do so while strengthening community capacity for post-Ebola recovery."
Gaining strength to handle any crisis
Hoffman writes that building trust in communities actually provides a "social immunity" that goes beyond the disease at hand, and into the underlying fabric of society, leaving communities "stronger to face the next crisis, whatever it may be."
Fambul Tok community members in Sierra Leone have been using their hard-earned trust to distribute soap to their communities, teach about prevention techniques, and develop the Bridging Communities Network, which functions much like the Pen-Pen Network in Liberia. [Hoffman attended EMU's Summer Peacebuilding Institute (SPI) in 1996 and 2000; she has employed CJP graduates to work with Fambul Tok and sent Fambul Tok staffers to SPI sessions.]
As an example Michaela Ashwood, who attended SPI '14, heads a group called Peace Mothers under Fambul Tok. These mothers have been distributing soap and promoting handwashing in six mainly rural districts of Sierra Leone, seeking to reach about 250,000 households per district, often by going door to door.
"We believe that the outbreak will end when actors at all levels – the national and district governments, community-based organizations and the health sector – work cooperatively to engage local communities," said a "project report" released Sept. 2, 2014, by the Gbowee Peace Foundation Africa, founded by Nobel Peace Laureate Leymah Gbowee (MA '07 in conflict transformation).
The tide may be turning
This seems to be happening at last. The tide seems to be turning from Ebola in West Africa. On Jan. 15, BBC News reported that weekly UN figures show a decline in new Ebola cases in Liberia, Sierra Leone and Guinea. Even though the "death toll from the world's worst Ebola outbreak has reached 8,429 with 21,296 cases so far," schools in Guinea opened Jan. 19 after a five-month closure and the national daily infection rate in Sierra Leone is two-thirds lower now than it was in November. Liberia had its lowest weekly total since June and all three countries "have sufficient capacity to bury all the people known to have died from Ebola," said the BBC.
In Sierra Leone, New York Times reporter Jeffrey Gettleman has found that the locals are proving amazingly resilient.
"Vigor seems to be part of Sierra Leone's national ethos," he wrote in a Jan. 10, 2015, article on Sierra Leone's passionate surfers, "especially now, when so many people are fixated on staying healthy. Freetown's streets thicken at dawn with men and women decked out in the latest and brightest spandex — jogging, stretching, jumping rope, or doing situps and push-ups in the grass."
If one visits Gwendolyn Myers' Facebook page, you'll see that interspersed with updates on trainings in handwashing to stop the spread of Ebola, are fun photos of Myers' in colorful clothing and high heels, sometimes with color-coordinated decorations around her neck and in her hair. It's as if she's saying, "We are not all gloom and doom here! We're resilient Liberians and proud of it!"
Article by Kara Lofton