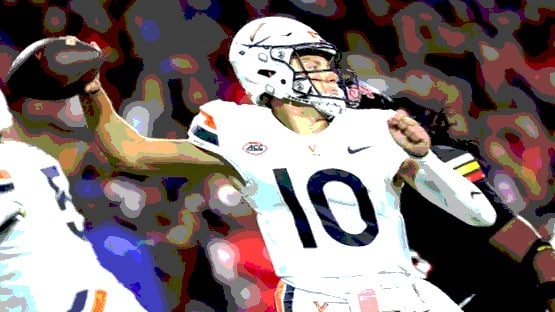 The TV broadcast crew said Tony Elliott had told them in a pregame production meeting ahead of last night's Virginia-Maryland game that Tony Muskett would be the starting quarterback, confirming what we thought we'd been told – Elliott had seemed to hedge in his Tuesday presser, though he also listed Muskett at QB1 on the depth chart on Tuesday.
Muskett, the TV guys said, warmed up with the ones pre-game, but Elliott decided sometime between warmups and the opening kick to go with true freshman Anthony Colandrea behind center.
Muskett, the transfer from Monmouth who was named the starter at the end of training camp, was available to play, Elliott told reporters after the game, a 42-14 loss.
"Yes, he was, he was available, and again, more in a, in an emergency situation. Just, you know, trying to do what's best for him, and just felt like another, another week without getting hit on it would be, would be best for him," Elliott said.
Colandrea, getting his second career start, got the offense to a nice start, leading touchdown drives on UVA's first two possessions, going 5-for-5 through the air for 109 yards and a 19-yard TD pass to Kobe Pace on a nicely run wheel route by Pace down the right flat and a nicely thrown ball from Colandrea, who was almost vertical as he released the ball under heavy pressure from the Maryland front.
The offense only had two sustained drives from that point on – a 12-play, 55-yard drive that stalled out after an iffy holding call on Eli Wood that erased a nice gain on a completion to freshman wideout Suderian Harrison to the Maryland 26; and a 15-play, 74-yard march that ended with Colandrea throwing an interception in the end zone on a drive that could have tied the game early in the fourth.
"You know, in that situation, you instruct him, you know, in the huddle, A, if it's not there, you know, throw it away, we got points, we're in, we're in position to kick the field goal," Elliott said. "Looks like he had a little bit of a little bit of pressure, and he stepped up. That should have been his first indication right there not to force it, timing's, timing's off at that point. Not sure, I got to watch the film, but possibly could have pulled it down, got some positive.
"He's just, you know, he's trying to make a play, you know, as a young man that wants to win a football game. He's a fierce competitor, and he's just trying to make a play. And our job as coaches is to help him learn from situations like that, to get better in the future," Elliott said.
Maryland, on its possession after the interception, drove for a touchdown, making it a two-score game, and Colandrea would go on to throw two more picks and also lose a fumble, for a four-turnover fourth quarter.
Aside from the turnovers, Colandrea put up decent counting numbers – 23-of-39, 263 yards, a TD.
"You just tell him to learn from your mistakes and say, Look, that's, you know, where, where you're going to get better. Keep your head up," Elliott said. "I mean, we're not in that football game if it's not for, for Colandrea, right. So, you don't want him to lose his confidence. And the thing that I like about him and what I, what I saw, and, you know, some of the great quarterbacks that I've been around, by the time he comes to the sideline, he already knows what mistake he made. And I think with that you can, you can work with it, you know, if you're trying to explain to him, you know, what the mistake was, then you got, you got a little bit more work to do. But by time he comes to the sideline, he's processed it, and he knows. And, and again, you know, that's what makes him special.
"He believes he can make every play. But what we got to do as coaches is, we got to try to correct as many, as many of those mistakes and situations in practice before it gets to the, gets to the game. But he'll learn from it. And man, he's, he's, he's a competitor. I know that he's hurting more than anybody in there, because, man he wants to win. It's just, it's just a few plays and some chances you can't, you can't take, and he'll learn and grow a lot from tonight."
Looking ahead to next week, Elliott gave off the sense that he'll still want to go with Muskett if Muskett can be closer to full go.
"You know, it was, it was, it was a decision for the program, right, and also for Tony, and Tony could have went, but he's still a little bit sore, and so I didn't, didn't want to put him in that situation, and then obviously, you know, Colandrea played well," Elliott said. "And so, that's, that's the decision there for the, for the long term, you know, health of the season, and then also for, for Tony Muskett. If he's not fully ready to go, then I don't, I don't want to put him out there and risk, you know, taking another shot on the shoulder too early."