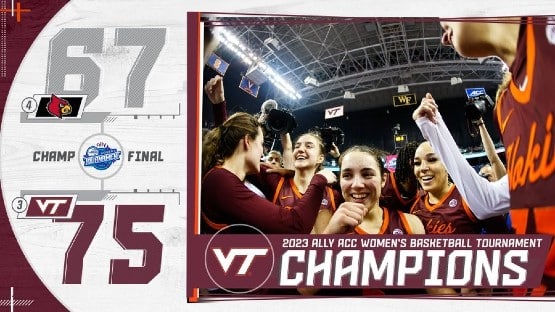 Virginia Tech defeated Louisville, 75-67, in the ACC Tournament title game on Sunday to win the program's first ACC title.
The eighth-ranked Hokies (27-4) got 25 points from Georgia Amoore, and two-time league player of the year Elizabeth Kitley added 20 points for the Hokies, who have now won 11 straight.
Virginia Tech turned its first trip to the ACC title game into a strong finishing act, pushing to a double-digit lead before halftime and keeping the Cardinals at arm's distance the rest of the way to cap a tournament where the Hokies rarely trailed in three games.
Before Sunday, the Hokies had been as far as the ACC semifinals only once since joining the league for the 2004-05 season — and that came last year. Now they're celebrating a milestone victory under seventh-year coach Kenny Brooks, who has built this program to the top of the league.
"Unbelievable, unbelievable," Brooks said on the court as his players celebrated in front of Hokies fans.
When the horn finally sounded, Kitley and Kayana Traylor skipped to midcourt to meet the rushing mob of players and coaches from the Hokies sideline headed for a midcourt celebration as the streamers and confetti dropped from the Greensboro Coliseum rafters.
Amoore earned MVP honors of the tournament, while Taylor Soule was soon taking photos of teammates lining up to pose with the championship trophy. A bit later, she stood on the stage choking back tears while teammate Clara Ford — who had transferred with her from Boston College — had her arm around her.
"I'm proud," Soule said through the tears.
While Amoore and Kitley led the offense, the Hokies got a vital second-half spark from Soule, who had all 13 of her points after halftime, including nine in the third quarter, with multiple finishes in the paint as the Hokies poked and probed the Cardinals' trapping pressure.
Chrislyn Carr scored 27 points to lead fourth-seeded Louisville (23-11), which fell behind by 13 in the first half as Amoore and Kitley got going. The Cardinals got no closer than seven points after halftime until the frantic final seconds.
Louisville made its closest push in the frantic final seconds to within 73-67 on Merissah Russell's three-pointer with 28 seconds left. But Kitley hit two critical free throws with 15.1 seconds to go that pushed the lead back to eight for what turned out to be the final margin.