Sports
Does a kneejerk move to the Big Ten make sense for the University of Virginia?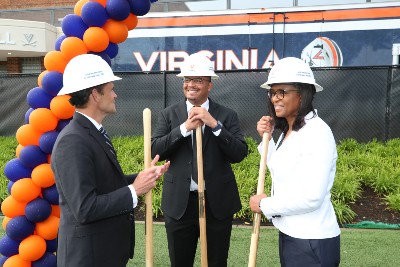 You're UVA athletics director Carla Williams, or UVA president Jim Ryan. Who's the first person that you called on Thursday when you heard that USC and UCLA were on their way to the Big Ten?
I know who my first call would be: ACC Commissioner Jim Phillips, to begin figuring out how we strengthen the ACC.
Because the last thing I'm thinking at that moment is, I should be calling the Big Ten to see if I can get UVA an invite.
USC and UCLA spent months doing their due diligence on the merits of a move to the Big Ten, and you can imagine that there's a lot of i's to be dotted, t's to be crossed in that process.
The Big Ten, on its side, had its own due diligence to undertake.
On both sides, there's impact on the bottom line, certainly, but that was the easy part, because the bottom line is mostly about football, since football drives TV revenues in college athletics.
Outside of football, then, there's the impact on basketball and the non-revenue sports, travel being the big issue there.
For USC and UCLA in particular, there are no bus trips for conference games other than the ones back and forth in LA. You're going to have to fly everybody to the Midwest, to Penn State, to Rutgers, for volleyball, softball, baseball, soccer, you name it.
Obviously they ran the numbers, and they worked out.
The impact on the kids having to fly back and forth across the country several times a season, on top of training, on top of practice time, on top of keeping on track to earn their degrees, that remains to be seen.
It's hard to imagine that the due diligence did more than pay lip service to the impact on the kids.
Anyway.
There was months of work on that end from the schools and the Big Ten.
Thursday afternoon, when the news about the latest Big Ten expansion broke, Virginia, you have to assume, had done none of this work on its part.
There may have been some thought put to, you know, what if, maybe a memo, but the heavy lifting that USC and UCLA had engaged in ahead of Thursday's news? No way.
So, to assume that Williams or Ryan, or any other AD or university president, for that matter, reacted to the news by calling and begging either the Big Ten or the SEC for an invite is a stretch.
Which isn't to say that we won't see some more news on this front in the coming days. Nothing should surprise us anymore when it comes to big-time college athletics, there being no pretense at all at this point that big-time college athletics is anything other than another professional sports enterprise.
What I would say to whatever kneejerk negotiations that may be ongoing, and may ultimately lead to more of these type moves, is, shame on those who engage.
Which gets me back to the University of Virginia. You can't scroll through your social media feed or a fan message board without coming across emotional appeals for UVA to make a move of some sort or the other, or whining about how if the school doesn't make a move, it might as well just join the Ivy League.
Emotional appeals being what they are, this comes down to numbers, and looking at the example of Maryland, which joined the Big Ten in 2014, finally became a fully vested member in 2021, and has only been able to balance its athletics books because the conference has propped it up with tens of millions of dollars in loans that will take the better part of the next decade to pay off, I don't know that the numbers ever would work out.
But Williams and Ryan, and their subordinates, are no doubt a lot smarter than me, and if they could make the numbers work, and don't mind the extra burden they'd be putting on the kids, and they decide a move makes sense, what does it matter what I think?
My way of thinking is, the smart money is UVA joining with other ACC member schools to shore up what we already have in place, which is an awful lot.
The grants of media rights from the members to the conference will make it costly for anyone to up and leave, for one.
Two, in the case of UVA and the Big Ten, which many seem to think would be a logical move for the University, do we really want our kids having to add the untold hours of extra travel time to their training, practice, game and academics schedules?
At the very least, Williams and Ryan would need to put the time into the due diligence before doing anything like this.