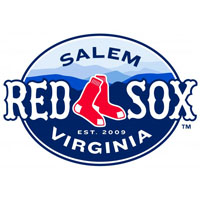 The Salem Red Sox held the Winston-Salem Dash to just three hits, but for the second time in six games Jordan Guerrero bested Ty Buttrey, allowing the Dash to squeak by the Red Sox 2-1 on Friday night at LewisGale Field.
Buttrey had not allowed a baserunner through three innings, a stretch that ended in the fourth when he hit Adam Engel with a pitch. After Engel stole second base, Eddy Alvarez dropped a bunt down that Buttrey fielded and threw over the head of Jordan Betts at first base. Engel took third on the single and came around to score on the throwing error as Alvarez advanced to second. Jake Peter then smacked a single to center, scoring Alvarez and giving the Dash a 2-0 lead.
Meanwhile, Guerrero held the Red Sox hitless through four innings until Zach Kapstein singled in the fifth. Salem's lone run scored in the seventh inning, as Forrestt Allday led off with a single and promptly stole second. With one out, Jordan Betts shot a line drive to left-center sending Allday sprinting around third to cut the deficit to 2-1.
Buttrey (7-7) matched his career-high with seven innings pitched, retiring seven batters he faced. He took the loss despite allowing only two runs, one earned, on three hits. He did not walk a batter and struck out four. Mike Adams retired all six batters he faced in relief. In total, Salem pitchers faced just three batters over the minimum and set down the final 13 Dash hitters.
Guerrero (5-3) picked up his third win in his last four starts by tossing seven one-run innings with only five hits and one walk against him to go with four strikeouts. Brad Goldberg dealt with a bit of trouble in the ninth inning, but picked up his seventh save of the year when pinch runner Franklin Guzman was caught stealing second base to end the game.
Betts was 1-for-3 and drove in the only Red Sox run and Allday went 1-for-3 with a stolen base and scored the only run for Salem. The loss put the Sox at 55-63 and 17-31 in the second half while the Dash improved to 60-58 and 30-18.
Salem and Winston-Salem continue the three-game series on Saturday at 6:05 p.m. with Trey Ball (8-10, 4.19) opposing Carson Fulmer (0-0, 3.60). It's Turn Back the Clock Night at LewisGale Field and the Red Sox will wear special Salem Avalanche jerseys that will be auctioned off after the game. Fans unable to attend can listen to the game on 1240 AM ESPN Roanoke, online at salemsox.com or via the TuneIn Radio app.