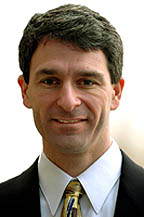 Attorney General Ken Cuccinelli has joined a coalition of nine states filing an amicus brief in federal court supporting Arizona's new immigration reform law.
"In creating immigration laws over the years, Congress created a joint federal-state cooperative immigration enforcement program," Cuccinelli said in a statement released on Wednesday. "States merely report the immigration status of persons they have lawfully detained to the federal government. They do not make determinations regarding deportation, as that is a federal matter. While much of border enforcement is left to the federal government, federal law expressly allows states to arrest people who are not legally present in the United States. Arizona's law doesn't change any of this. That's why we are stunned that the government has sued Arizona."
The amicus brief, filed on Wednesday in the United States District Court for the District of Arizona, defends Arizona's and all states' authority to concurrently enforce federal immigration laws, especially in light of the selective and even lack of enforcement of those laws by the federal government.
On July 6, 2010, U.S. Attorney General Eric Holder filed a lawsuit against Arizona and its governor, Jan Brewer, to stop implementation of the state's new immigration law. In its suit, the Obama administration alleges that Arizona's law is preempted by federal law and seeks an injunction against its enforcement.
The nine states that have signed the brief are Virginia, Michigan, Florida, Texas, South Carolina, Pennsylvania, Alabama, Nebraska and South Dakota. One U.S. territory, the Northern Mariana Islands, has also joined. The coalition of states is being led by Michigan Attorney General Mike Cox.
 
 
Edited by Chris Graham. Chris can be reached at [email protected].