On the anniversary of VE Day, Congressman Ben Cline paid tribute to the Americans who fought and died to help defeat Nazi Germany eight decades ago.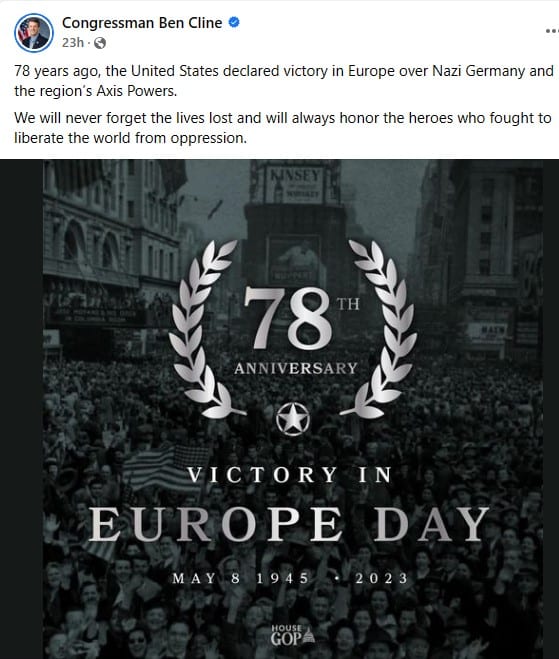 But this same week Donald Trump– the man Cline called "our great president" (six months after he stopped being president) and whose endorsement he was proud to proclaim— is hosting supporters of the evil forces those brave Americans helped vanquish in Europe.
The Trump National Doral resort will host two antisemites who have promoted pro-Adolf Hitler propaganda and spread virulently antisemitic conspiracy theories. They will be speaking at an event in Miami alongside numerous Team Trump personalities, including Eric Trump, Lara Trump, and Devin Nunes. 

Trump Doral speaker Scott McKay, who has a streaming show on Rumble, has claimed that Jewish people orchestrated 9/11 and were responsible for the assassinations of Presidents Abraham Lincoln, John F. Kennedy, and William McKinley. He has also said that Jewish people routinely torture children and eat their hearts.

He has praised Hitler for supposedly trying to take down a Jewish banking system and said, "Hitler was actually fighting the same people that we're trying to take down today." 

Trump Doral speaker Charlie Ward, who also streams a show on Rumble, has shared posts praising Hitler for supposedly "warning us" about Judaism; claiming that "VIRUSES are Man (JEW) made"; and attacking the alleged Jewish media for supposedly lying about the Holocaust. 
Congressman Cline: Now that you know about this, it is incumbent on you to denounce Trump and everyone else involved clearly and forcefully. Otherwise you dishonor the heroes you claim to celebrate.
Gene Zitver is the editor of ClineWatch.