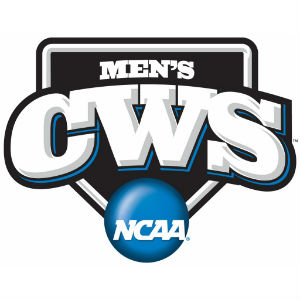 As the top national seed remaining, it would be hard to argue UVA not being the favorite to win the 2014 College World Series. Now for the reality check: there's a lot of baseball still to be played, and a lot of good baseball teams to play them.
(Thank you, Captain Obvious.)
At the least, the team that emerges from Omaha with the big trophy will have had to win five more games to claim the spoils, and if they have to fight their way back from an early loss in the first part of the two-round CWS, make that six.
That's two more starts each for your weekend rotation, plus maybe a staff day or two, in 12 days.
Virginia (49-14) is in as good a position as anybody to endure this final grueling test. As coach Brian O'Connor said Sunday night after his 'Hoos had evened its Super Regional series with Maryland with a 7-3 win that saw him use his #2 and #3 starters, the college baseball world was going to see in Game 3 just how deep his pitching staff was. Josh Sborz, who hadn't started in a month, threw seven scoreless innings, hitting 94 mph on the gun on fastballs in his final inning of work, to key the 11-2 win that pushed Virginia back to Omaha for the third time in six years.
This might be the best team of the O'Connor era, and that's saying a lot, looking back at how damn good that 2011 team was that finished the CWS just out of the money. That team had Danny Hultzen, Will Roberts and Tyler Wilson eating up innings on weekends with a 33-5 won-loss record (and 2.24 team ERA) to show for their efforts, and a .304 team batting average (and 6.92 runs per game offensive output) on the other side of the ledger.
What sets this team apart isn't its numbers (though it has good numbers, a 2.31 team ERA, a .281 team batting average in what is, for this year, at least, a mini-dead-ball era in college baseball), but rather its grit. The 2014 'Hoos were 46-3 in games in which their opponents scored three runs or less. Think about that one for a second: that's 78 percent of their games in which they held their opponents to three or less. And there's the 23-9 record in games decided by three or less runs. Those are the kinds of games that you can expect in Omaha.
But about what you can expect in Omaha: the UVA faithful, focused on the doings of their team the past two weeks, think their team is the hottest in the country, outscoring its opponents in the regionals and Super Regionals by a cumulative 44-13, going 5-1 in a stretch with the loss being a game that can be argued was largely given away (Virginia left 14 runners on base, and had a runner thrown out at the plate; Maryland scored three runs on outs).
Problem is, everybody in Omaha is the hottest team in baseball now. The way the NCAA crowns a Division I baseball champion is without a doubt the toughest for any of its championships. The champion team has to win, at the least, 10 games in a four-week period in postseason play to earn its trophy. And getting to the College World Series, the rough equivalent of basketball's Final Four, is literally only half the battle; whereas a Final Four team has won four games to get there, and has to win two more to win the national title, a College World Series team has won either five or six games to get there, and has to win five or six more to come out on top at the end of the day.
Which gets us back to the subject of favorites. Baseball, at all levels, doesn't look kindly on favorites. Basketball titles can be won by LeBron James and a supporting cast because you can only have five guys on the floor at any one time, and there's no rule saying the star player can't shoot the ball as many times as he wants. Football is more like baseball in being more democratic, but at the college level in particular, the favorites are usually the teams with the most resources and the most depth (read: big-money BCS programs).
A baseball team on any given day is only as good as its starting pitcher and its offense against the other team's starting pitcher. As UVA saw in its Game 1 loss to Maryland in the Super Regionals, it's not even a guarantee that having your ace on the mound can bring victory, if the ace in question happens to be in the midst of his worst outing of the season.
That said, favorites … we can go ahead and call Virginia the favorite, but the Cavs could also play two good baseball games and be done Tuesday night.
That's baseball. Where things really make sense only in retrospect.