One perspective on Mickey Matthews is that he should have been able to decide the day that he left JMU and even had a hand in picking the guy who would sculpt the statue to his tenure.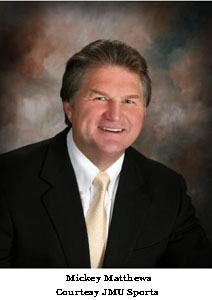 You win a national championship and take a football program at a school that didn't play football until 1972 to the precipice of FBS, and they at least eventually name the field after you.
So when the news came down Monday that James Madison had neither commissioned a statue, renamed the field or even saved a parking space for Matthews, instead firing him after 15 seasons, it was a bit of a surprise.
And then it wasn't, when you consider that Matthews fell victim to the higher expectations that he himself had created in his time in Harrisonburg.
It wasn't that long ago that JMU seemed on the verge of getting rid of Matthews. OK, it was that long ago. Circa 2004, when Matthews, who had guided the Dukes to a playoff appearance in his first season, in 1999, was coming off a 6-6 season in his fifth year and was just 27-31 overall.
Matthews led JMU to a 9-2 regular season record, then a pair of 14-13 nail-biter wins in their first two playoff games (at Lehigh and at Furman), then a memorable 48-34 at rival William and Mary in the national semifinals to advance to the I-AA title game against Montana.
The 31-21 win gave JMU Nation a national title and seemed to secure Matthews' place in James Madison athletics lore.
Though it's possible and even likely that the win over Montana and the national title wasn't even Matthews' biggest accomplishment in his time in the Shenandoah Valley. In 2010, he took his undermanned JMU squad down I-81 to Blacksburg and shocked the football world with a 21-16 win over a nationally-ranked Virginia Tech team that would go on to win 11 straight thereafter, win the ACC title and play in the Orange Bowl.
Matthews after the miracle at Tech would say that the win was the biggest in his career. It would also mark a turning point, coincidentally, in his JMU run. From that Sept. 11, 2010 game forward, JMU would go just 25-20 under Matthews, with just one playoff appearance, in 2011, and no home playoff games at the newly-renovated (to the tune of a $62.5 million investment) Bridgeforth Stadium.
JMU in each of the past two seasons seemed poised mid- to late-season to make another playoff run, but the Dukes dropped their final two (including a home loss to Old Dominion in their finale) in 2012 to finish 7-4 and out of the playoffs, and went 1-4 down the stretch after a 5-2 start to finish 2013 at a middling 6-6 and again out of the money.
When your school is putting up $62.5 million to fix up the stadium (adding 10,000 seats in the process), and commissioning studies examining the feasibility of moving up from FCS to FBS, you just can't afford not to make the playoffs two years in a row and four years out of five, as Matthews ultimately did.
Especially when your school is still only paying you $222,000 a year, and you have only one year left on your contract. All things considered, that's a mind-numbingly low amount of money for a  football coach who won your only national championship and put your program in position to even think about moving up to FBS, less than many FBS position coaches make.
You're talking about roughy 1/40th the buyout that UVa. might be facing this weekend if Craig Littlepage pulls the trigger and gets rid of another FCS national-championship coach, Mike London (who led Richmond to the 2008 national title at I-AA). London is owed more than $8 million, and his staff an additional $4 million. James Madison athletics director Jeff Bourne gets off pretty easy with Matthews and his staff, basically giving him free reign to go out and hire whoever he wants.
And don't think there won't be significant interest in the job. That's a big part of Matthews' legacy. He made JMU a hot football job, with apparent interest from several BCS coordinators, and talk that JMU alum and long-time Virginia Tech assistant Bryan Stinespring might be the frontrunner for the job in the early going.
Bourne would have to pony up more money than he paid Matthews to lure Stiney, who makes $350,000 a year as the recruiting coordinator on Frank Beamer's staff, back home. If Bourne and the brass at JMU really are thinking about making the leap into FBS, though, they're going to need someone with the profile of a Stinespring, who would bring instant credibility with recruits, current players and with a fan base that is currently reeling from the move to sack Matthews.
Where a Stinespring might be able to take JMU football from here is anybody's guess. For all the talk of Madison making the leap to FBS, it's hard right now to imagine how that will happen. It makes no sense to go the independent route, for obvious reasons (scheduling as a I-A independent is a nightmare if you're not Notre Dame). Finding a conference fit is not much easier with JMU not being able to bring much in the way of market share (the Harrisonburg TV market is ranked 178th of the 210 U.S. TV markets according to Nielsen Research, and unlike UVa. and Virginia Tech, which are also stuck in small markets, Harrisonburg is too far afield to claim resonance in nearby big markets like Roanoke, Richmond and Washington, D.C.).
The MAC and Sun Belt both seem to fit athletically, though not as much academically. Conference USA, which will be home to rival ODU beginning next year, is a good fit athletically but a costly move geographically (with schools as far away as South Florida and El Paso, Texas).
Outside of those conferences, you're looking at the AAC (the remnants of the old Big East), which will be down a member in 2014 with Louisville moving to the ACC, but what interest the AAC would have in JMU with its smallish TV footprint remains to be seen. And the AAC lineup in football (Central Florida, Cincinnati, Houston, UConn) is a couple of steps, at least, above where JMU could possibly hope to reach anytime in the near future.
A Stinespring could help boost recruiting to get JMU to the next level. The big hit that eventually took Matthews to the turf can be explained in three letters: O-D-U. The emergence of the ODU football program in the past five years has taken a huge bite out of what had been Matthews' secret strength. The scraps that Virginia Tech, UVa. and out-of-state D1s poaching Hampton Roads for talent left behind formed the foundation of Matthews' best JMU teams in the mid-2000s. With ODU on the rise, the hometown talent that didn't leave for I-A had another alternative, and Bobby Wilder has ridden that wave to instant success, taking a program that wasn't even in existence when JMU was making a run to the I-AA national semifinals in 2008 to a 46-14 record in the past five years, and next year ODU will be making its own debut in I-A.
It would be fair to say that in the end it wasn't Jeff Bourne that gave Mickey Matthews the pink slip on Monday, but Bobby Wilder, who led his Monarchs teams to two playoff appearances (in 2011 and 2012) and an 8-4 record in 2013 against a schedule of I-A and I-AA teams in the transition year toward the move to Conference USA in 2014.
Matthews raised the expectations in JMU Nation, Wilder showed the way to I-A, and now James Madison is searching for the man who will be expected to build on what Matthews laid as a foundation.