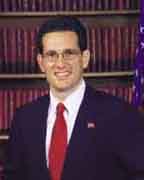 Think of Eric Cantor as a #1 seed, Dave Brat as a #16 seed, the primary as the opening game of an NCAA Tournament, and what that means in March.
Ones don't lose to sixteens. UVA was a one this year, and it was big news that the 'Hoos were down at the half to #16 Coastal Carolina before rallying and then coasting to victory with a big second half.
Cantor went in the other direction. Not that they have any value now, but internal polling last week had Cantor up on challenger Dave Brat by 34 points, and another poll taken by a GOP firm had the race at 13 points.
Brat won by 11. This wasn't Princeton having a last shot to beat Georgetown; this was a butt-whoopin'.
Washington is scrambling to make sense of what the Cantor defeat means. The end to immigration reform? Democrats back in the forefront for the midterms with the Republicans imploding?
Look at it the way you'd look at a one seed losing to a sixteen. Virginia loses to Coastal, for example. What would we have said to try to make sense of that? Would we have said it was the beginning of a revolution of sixteens, that all ones need to change their way of doing things, that twos and threes were set to be the new ones, so watch out?
No. We'd have looked at the UVA-Coastal game and based our interpretation of what happened on that game and that game alone.
Coastal shot the lights out; Virginia turned the ball over too much; the Cavs didn't deserve a one seed in the first place; maybe the Chanticleers weren't a sixteen.
Why did Eric Cantor lose on Tuesday? Because immigration reform is dead in the water? Maybe. Because Republicans are imploding? Possibly.
But might it also be that Cantor was more focused in the primary season on helping other Republicans win their races than he was on making sure that he won his own? Sounds plausible. And did his strategy of running an aggressive schedule of attack TV ads on Brat actually serve to elevate his no-name opponent and remind voters that there was a chance to cast a vote against a key member of the Beltway establishment? Hard to argue against that.
And did Democrats cross over using Virginia's open-primary rules to get rid of a powerful Republican when it's easiest to do so? That has to be part of the story.
If Virginia had lost to Coastal, the other one seeds this past March, Florida, Wichita State and Arizona, wouldn't have changed their game plans going into their games against sixteens. Funny how Cantor losing to Brat is supposed to get all of Washington to change what it does.