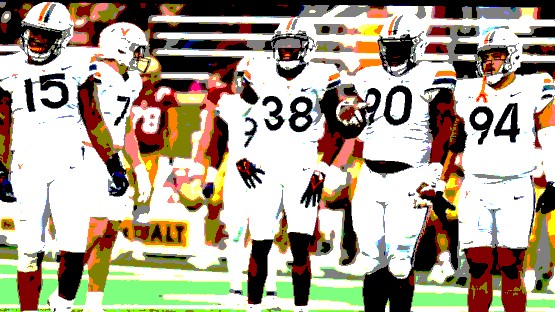 You're not going to win football games, bottom line, when your offensive line can't block, and your defensive line can't control the opponent's ground game or get pressure on the other team's QB.
Want to know why Virginia is 0-5? Yeah, this is why.
"We're going to have to do whatever it takes to try and get some pressure on the quarterback. That was one thing that was frustrating is, man, we gave up five sacks, and we didn't get any," coach Tony Elliott said on Tuesday, referring back to last week's 27-24 loss at Boston College.
So much went right for Virginia in that one – the D forced four turnovers, there was the Hail Mary TD right before the half.
But 11 penalties, five on the offensive line, were a problem.
The five sacks allowed, a big problem.
The Cavaliers could only manage 95 sack-adjusted rushing yards, while BC racked up 203, 162 in the second half.
And in terms of pressure on the QB, Thomas Castellano, the Boston College QB1, was pressured on only four (!) of his 30 dropbacks.
It hasn't helped that the defense has been a walking M*A*S*H* unit since the start of training camp, with stalwarts like Chico Bennett Jr., Ben Smiley, Paul Akere and Kam Butler all missing time due to injuries.
Butler (212 snaps, three sacks, 11 QB pressures, 69.5 Pro Football Focus grade in 2023) is out for the season after shoulder surgery, but Bennett (186 snaps, seven QB pressures, 54.0 PFF grade) is getting healthier each week, after a freak knee injury suffered at the end of camp, and Elliott expects to get Smiley and Akere back this week, which should help with the depth up front.
"Coach Rud has done a good job the last couple of games since I challenged him to get more pressure on the quarterback of having to use the linebackers. So, I think you've got to use what's there," Elliott said. "Hopefully, Chico starts to kind of really feel healthy from both the shoulder and the knee and kind of get back to where he was. We're going to have to do whatever it takes to try and get some pressure on the quarterback."
On the other side of the ball, you have the offensive line that has allowed pressures on 37.7 percent of Virginia's pass dropbacks, and has UVA ranked 125th of the 133 teams in FBS in rushing (79.2 yards per game).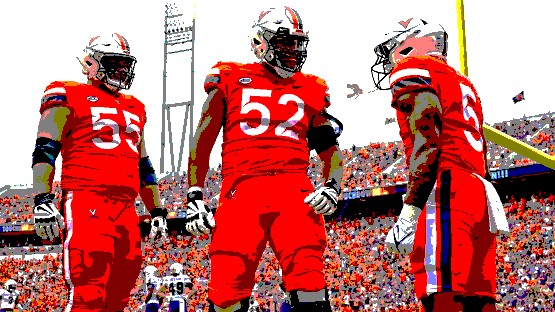 It's almost like there's a need for a refresher crash course for the O line – a little O Line 101, as it were.
"In my experience, it's a combination of putting them in the right position, but then also, when you put them in position, they've got to win their one-on-one matchup, and that's where, in this game, where I felt like where we fell short is when we got to our one-on-one matchups and we were trying so hard, too hard, pressing, being too eager, that we abandoned our technique," Elliott said.
"If you don't bring your technique into a one-on-one battle, unless you're just superior in skill and size and speed, but when you're evenly matched, it's going to be the guy that plays with the proper technique," Elliott said. "That's where we've got to get better up front. Just being around those guys yesterday and seeing their body language and kind of countenance on their face, they want to perform. They want to do better. They're eager for us as coaches. That's where we've got to improve."