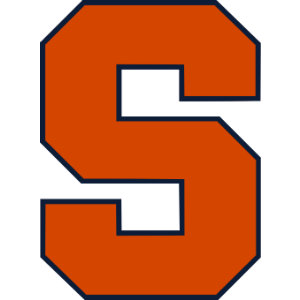 London Perrantes connected from three with 9:32 to go to put UVA up 15. Writers were thinking up ledes about how Cavs fans were about to party like it was 1984.
Syracuse coach Jim Boeheim had a card up his sleeve. It wasn't necessarily an ace.
"We're going to wait five or six possessions and try to get it to where it's 10 or 12. I think it was 14. It was more than we wanted it to be when we started pressing," said Boeheim, talking about the strategy that he devised at the half, when the Orange were down 14, to try to give his team whatever shot it had.
And he didn't seem to think it was much of a shot.
"We had prepared them that we're going to press because we weren't going to cut a 15-point lead against Virginia down by playing half-court. The best we could hope for is lose the game by seven, six or seven, if we play well, if we play well," Boeheim said.
Virginia, as Boeheim said, didn't exactly wilt in the face of the Syracuse pressure.
"They beat the press and they had two on ones, and I think one time Tyler (Lydon) made a great play, and then he came over (Anthony) Gill and Gill had to walk. It was just a couple plays down there, but they're certainly capable of playing at that speed when they get in the open court," Boeheim said. "But we wouldn't want to press them the whole game because in reality, they missed some plays that they would normally make, and if we press the whole game, they might miss a couple, but then they would start making lay-ups and also get us in foul trouble, and we can't press for that long with six guys."
That the gamble would pay off wasn't immediately obvious. It all started innocently, with a missed layup by Malcolm Brogdon. Trevor Cooney got a quick fast-break layup on the other end to cut the Virginia lead to 11.
Darius Thompson responded with a layup on a 2-on-1 to push the margin back to 13 with 8:34 to go.
Malachi Richardson pushed the ball upcourt and picked up a cheap foul on Evan Nolte, and the two free throws had it back to 11.
Gill got a pass on another breakaway, but Lydon, as Boeheim described above, got into Gill's head enough to force the traveling violation.
A Richardson layup, a Thompson turnover, two more free throws by Tyler Roberson, and the lead was at seven.
Devon Hall seemed to stop the bleeding with a layup on a 3-on-1 to make it nine with 7:32 to go.
Hard as it is to figure now, UVA would score one more bucket from the field the rest of the way, a layup by Gill at the 1:49 mark, after a 15-0 Syracuse run had given the Orange a six-point lead.
The gamble paid off. For whatever reason, a Virginia team that had eaten Iowa State alive in the final minutes in an 84-71 Sweet 16 win Friday night when the Cyclones went to a desperation press couldn't get out of its own way on offense, and couldn't get a stop on defense.
Syracuse scored on 12 straight possessions over a 6:20 stretch to fuel the game-changing 25-4 run.
"We got a couple turnovers that really wasn't what we do, and you know, credit to them because they hit shots and they made plays when they needed to, and we couldn't get stops," said Gill, who had 10 points in his final game in a Virginia uniform. "We couldn't keep them out of the lane, and it's just something that UVA basketball doesn't pride itself on, and that's what happened tonight, and that's how they were able to get back into the game."
Syracuse had 21 points in the first half, then scored 47 points in the second half, easily the most against Virginia this season.
'Cuse had a big advantage in points off turnovers – 15-2 – and also took advantage of opportunities provided by officials to get to the line.
The Orange shot 18 free throws in the second half, to five for Virginia, and had a 25-12 advantage in free-throw attempts for the game, despite the teams having nearly identical foul situations (UVA was called for 16, Syracuse 15) and the teams taking roughly the same number of shots from three (Virginia 21, Syracuse 18) and from two (Syracuse 39, Virginia 32).
Boeheim called off the press once the Orange built their six-point lead, and Virginia was able to take advantage and whittle the deficit to two in the final minute, and after Michael Gbinije missed a free throw with 25 seconds left, it was Virginia ball, down three.
The Cavs worked the ball to Devon Hall for a contested three with 12 seconds to go, but Hall missed badly, and Syracuse rebounded and put the game away in the final seconds at the line.
The roll of the dice by Boeheim paid off.
"We knew we would have to do it, and those are the games where they're good against — they know what they're doing," Boeheim said. "They attacked it, and if they hit a couple on those right away, it would have been a 20-point game. But you have to take your chance. It doesn't matter whether you lose by seven or 20; it's still you are going home."
Story by Chris Graham