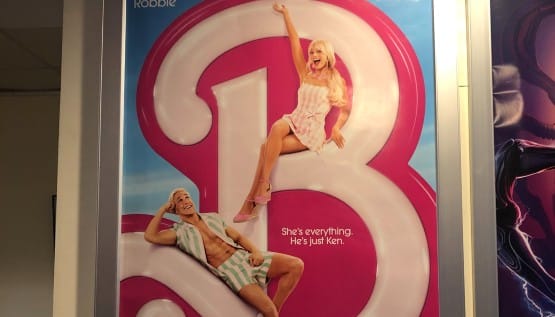 A couple months ago, I read Vogue's interview of actress Margot Robbie and the film "Barbie," but did not really think about whether I would see the movie.
A few friends saw it and posted on Facebook and I still did not think about whether I wanted to see it.
Then a friend posted last week that she was going to see it Wednesday night and anyone else who had not seen "Barbie" was welcome to join her. So, I went.
And now I can't stop thinking about the fact I saw the movie about Barbie.
I've previously written about how I grew up a tomboy. However, I did have several Barbies. They played with my brother's Army men and action figures on many occasions when we were children.
What I learned from seeing the Barbie movie was that my Barbies had more of an influence on me than I ever realized. Their message was subtle but clear every day: as a girl, I could be whoever I wanted. Stereotypical, doctor, lawyer, veterinarian, writer.
I'm sure you understand which one I picked. Ironically, one of my Barbies had a home office. In the 1980s. She had a home office. Long before a global pandemic made remote work and working from home appealing, my Barbie worked from home.
And now I do too. I remember her home office had a little white telephone, because I remember having her hold it in one hand to her ear.
One of my other Barbies had a horse, and a trailer to transport the horse.
Another Barbie wore fancy evening gowns.
I discovered a love for clothes and doing hair because of my Barbies.
Barbie showed me what today is called "girl power." But if you had asked me as a child, I would not have been able to verbally explain to you what she meant to me.
As an adult in her 40s, after seeing the Barbie movie, I can verbalize it for you.
Barbie taught me I do not need a boyfriend or a man, even when the message I received from my grandmothers was that I did. I did not have to have children in order to have value in American society. As a woman, I would already have value no matter what profession I chose or where I lived.
I'm not surprised now that it's 2023's top grossing movie.
Because Barbie never did anything halfway when I was in her world. And she expected me never to do anything halfway.
After seeing the movie the other night, I left the movie theater with my friends who were dressed up in pink to celebrate the movie. I had put a lot of thought into what I would wear that evening, because I was excited for a chance to have a drink downtown with gal friends and see a movie.
Sounds a lot like something Barbie would do, doesn't it?
But I had not thought to wear pink. I wore a new blue-and-white-striped blouse with puffy sleeves and blue sandals, which later I realized look a lot like a pair one of my Barbies had when I was a child. As a child, I never wore anything with puffy sleeves. I was thrilled later in the movie when Robbie wears a blue and white dress.
I drove home in my red car, which I bought two years ago, and several friends have said looks sporty and just like my kind of car. Sounds like a Barbie car, doesn't it? My Barbies had a pink convertible.
I still enjoy clothes and doing hair.
Barbie must be why.
I keep referring to my Barbies in past tense, but the truth is, I still have them. My mom sold her house three years ago and I made sure to bring them to Staunton with some other childhood items. The Barbie with evening gowns is a collector's item.
I haven't brought any of them out to play with like America Ferrara's character does in the movie.
I don't have to. They already taught me what their creator intended.
Thank you, Ruth. Ideas do live longer than humans.
Writing does too.