Uncategorized
Bald eagle becomes permanent Wildlife Center resident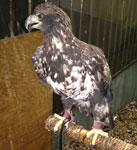 Edited by Chris Graham
[email protected]
 
The Wildlife Center of Virginia announced on Tuesday that Buddy, the bald eagle from Norfolk admitted to the Waynesboro-based Center as a patient in May 2008, will become a permanent resident at the Center.
The bald eagle will become a member of the Center's corps of non-releasable education animals, which includes hawks, owls, snakes, turtles, and opossums. In additional to being seen by visitors to the Wildlife Center, many of these animals travel with Center staff and take part in environmental education programs in elementary school classrooms and auditoriums and at libraries, county fairs, and other venues.
The announcement came on the eagle's second birthday – the eagle hatched from his egg in a nest at the Norfolk Botanical Garden on April 27, 2008.
The Center is planning a new, permanent enclosure at the Center for Buddy, which may eventually include a webcam – "Buddycam" – better opportunities for public visitation, and appropriate room for the bird (who is fully flighted) to exercise. Buddy is currently housed between two Wildlife Center veterans – Junior, a golden eagle who has been at the Center since 1985, and Scarlette, a red-tailed hawk brought to the Center as a patient in 1989.
Buddy could become an institution at the Wildlife Center for many years to come. Skyler, the Wildlife Center's first bald eagle ambassador, died in 2006 at the age of 25. During his long career as the poster-child for conservation and environmental protection, Skyler and his handler, Ed Clark, president and co-founder of the Wildlife Center, traveled more than 100,000 miles, from rural schools and backwoods summer camps for children to the U.S. Capitol, the White House, and the Pentagon.
Skyler and Clark were featured guests at the 20th anniversary celebration of Earth Day on the Mall in Washington, D.C., appeared multiple times on "Larry King Live," NBC's "Today" and C-SPAN's "Washington Journal," and even spooked Socks the Cat at a White House Easter Egg Roll during the Clinton administration.
"It remains to be seen if Buddy has the temperament necessary to make it 'on the road,'" Clark observed. "He has already proven to be a great ambassador for wildlife and has helped thousands of individuals gain a new appreciation for Bald Eagles and the work of the Wildlife Center of Virginia."
Members of the Center's rehabilitation staff started training Buddy in February 2010. The goal is to train the bird to sit calmly on a handler's gloved hand, so that Buddy can be taken to programs and presentations off-site. The training process often takes many months of hard work – for both the eagle and the handlers.