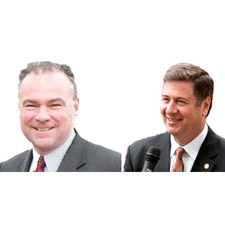 Lower taxes, drilling and a balanced budget amendment – to George Allen, it's a blueprint for economic rebirth; to his critics, it's the boilerplate that sank the American economy during his term in the United States Senate.
"The strength, skills and optimism of America's workforce is our competitive advantage. By shedding the burdensome taxes that have been stifling our recovery, we can restore the promise of freedom and opportunity for the next generation," Allen said in unveiling his Blueprint for America's Comeback in Richmond today.
The Allen blueprint calls for reducing taxes on businesses to 20 percent, reversing current energy policies that have limited domestic drilling and a balanced-budget amendment that gives future presidents a line-item veto on appropriations bills.
"Congress must promote pro-growth policies that enhance American ingenuity and allow businesses to do what they do best – innovate, produce and create jobs. This reinvigoration starts with reducing taxes on job-creating businesses to attract the investment and expansion necessary for economic growth, jobs and sustained prosperity," said Allen, a Republican who served in the Senate from 2001-2007.
The campaign of Democrat Tim Kaine, who is expected to face off with Allen in the 2012 Senate race, pointed to the poor job-creation numbers from that period in its response to Allen's announcement.
"Voters have already seen George Allen's 'blueprint' for America during his six years in the U.S. Senate and don't need to see anymore," said Kaine campaign spokeswoman Brandi Hoffine. "As senator, Allen mortgaged the nation's financial health to give tax breaks to millionaires and corporations already reaping billions in profits. He voted to explode the national debt, privatize social security and build an economy so unstable that it nearly collapsed. Now on the campaign trail, Allen threatens to use this country's credit rating as 'leverage,' praises a plan that would effectively end Medicare as we know it and promises fiscal conservatism despite a record that shows anything but.
"The only 'blueprint' Virginia voters are interested in reduces spending while still creating jobs and economic opportunities. And, Tim Kaine is only candidate in this race with that record," Hoffine said.