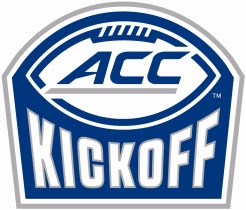 The 2014 ACC Football Kickoff has begun, and student-athletes have already enjoyed a memorable experience.
Saturday evening brought the opportunity to enhance personal awareness and leadership skills through forums and panel discussions, followed by group activities that included dinner and bowling.
A highlight came during Saturday afternoon's Personal Development Session, conducted by former college and professional football player Freddie Scott II and centered on the theme "Discover Your Why."
Scott is the CEO of Legacy Builders, LLC and the founder of Unlock the Champion, a non-profit organization dedicated to helping families. Since 2009, he has served as a national spokesperson for Tony Dungy's organization, All Pro Dad.
Scott's work has been acknowledged by the NFL Players Association, which awarded him the 2013 Kenny Washington Award, given to a player who exhibits courage and strong character to overcome adversity. Scott also serves as a transition coach for the NFL and conducts Champions @Home workshops for the NFL Players Association, seeking to give NFL players tools to be better husbands and fathers.
Scott is nationally certified in mental health first aid and suicide intervention, and travels the nation sharing practical keys to success in the areas of family, character development, leadership and conflict resolution. His book, "The Dad I Wish I Had" features a foreword by Dungy, and has also been featured on HLN, TBN, and Family Life Today Radio.
Saturday's panelists included former Wake Forest quarterback Riley Skinner, former Virginia Tech running back Kevin Jones , former North Carolina fullback Michael Dulaney and former Miami running back Clinton Portis.
"I felt like it was a good opportunity to learn from guys who have been there and done that," said Pitt senior defensive back Ray Vinopal. "They know about the traps that young guys can fall into, and what it takes to be successful after football. They know about the different resources that are available to us that we don't necessarily utilize because we haven't been aware of them."
Skinner started at quarterback as a freshman on the 2006 Wake Forest team that captured the ACC Championship and played in the BCS Orange Bowl. As a freshman, he received the Jim Tatum Award as the top football student-athlete in the ACC. Skinner now works at Skinner Brothers Realty after spending three years as a loan originator with Capital Advisors Inc. in Charlotte, North Carolina.
Jones rushed for 3,475 yards in three seasons at Virginia Tech, including a then-school record 1,647 as a junior in 2003. After five seasons in the NFL, Jones fulfilled a promise he made to himself by returning to school at Virginia Tech in 2011. Jones received his BS degree in industrial design this past May while also earning a minor in art history. He was recently appointed Special Assistant to the Athletics Director at his alma mater.
Dulaney graduated from UNC in 1993, shortly after helping then-head coach Mack Brown to his first bowl game victory with the Tar Heels. Dulaney went on to play one season in the Arena Football League and four years in the NFL. He has worked in the medical device sales industry for the past 10 years and is currently a clinical account executive for Rubbermaid Health Care.
After starring at Miami, Portis spent nine seasons in the NFL with the Denver Broncos and Washington Redskins. A two-time Pro Bowl selection, he rushed for 9,923 career yards before retiring at the end of the 2010 season. He now works as a commentator for the ACC Digital Network.
"It was fantastic getting to know all these guys," Duke senior guard Laken Tomlinson said. "I had a lot of fun learning from them. We have guys here who have been through the NFL, and I certainly appreciated how real they were with us, and the things they were able to share."