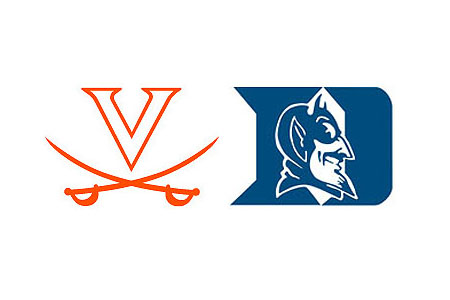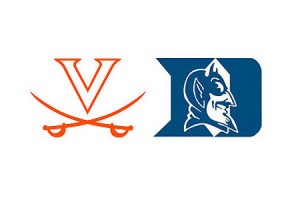 The top-ranked UVa. baseball team earned a 2-1 win over Duke Sunday afternoon at Jack Coombs Field in Durham, N.C. The Cavaliers (11-3, 2-1 ACC) took two of three games in the series and have won 13 of their last 15 ACC weekend series, dating to 2012.
Virginia also won its sixth straight series against the Blue Devils (8-7, 1-2).
Pitching and defense ruled the weekend as the teams combined for just 13 runs and 29 hits in the series. Duke out-hit Virginia 6-5 Sunday.
Virginia starting pitcher Brandon Waddell (So., Houston, Texas) worked six solid innings, giving up a run, three hits and three walks while striking out seven. He earned the win to improve to 3-1. Whit Mayberry (R-Sr., Alexandria, Va.), David Rosenberger (So., Bethlehem, Pa.) and Nick Howard (Jr., Olney, Md.) each pitched a scoreless inning out of the bullpen. Howard earned his fourth save after striking out the side in the ninth inning.
Virginia pitchers combined to strike out 13 batters in the game.
Duke starting pitcher James Marvel (2-2) tossed seven innings, allowing two runs (one earned), four hits and three walks with four strikeouts. Conner Stevens fired two scoreless innings out of the bullpen.
Nate Irving (Jr., Yonkers, N.Y.) recorded two of Virginia's five hits and also posted an RBI.
Virginia scored both of its runs in the second inning. Joe McCarthy (So., Scranton, Pa.) doubled to right field on the first pitch. He moved to third on a wild pitch. After Howard walked, Irving hit a sacrifice fly to shallow left-center. On the throw home, Howard advanced to second and he came all the way around to score when catcher Mike Rosenfeld's throw to second sailed into right-center field.
Duke recorded its lone run in the fourth inning. Mark Lumpa hit a leadoff single and, running on the pitch with two outs, scored all the way from first on a single to center field by Jordan Betts.
The Blue Devils put the first two runners on base in the seventh inning against Mayberry, but the Cavalier reliever quickly picked up two outs when he struck out Andy Perez and Matt Berezo strayed too far off second base and was caught in a rundown, with third baseman Kenny Towns (Jr., Burke, Va.) applying the tag. Aaron Cohn then grounded into a fielder's choice to squelch the threat.
Duke got a one-out single in the ninth inning but Howard bounced back to strike out the final two batters as he fanned the side.
Virginia returns home at 4 p.m. Tuesday to face James Madison, starting a stretch of six straight games at Davenport Field. The Cavaliers play host to Boston College next Friday through Sunday (March 14-16) in ACC action.