Morgan Griffith: Billy Graham and the opioid crisis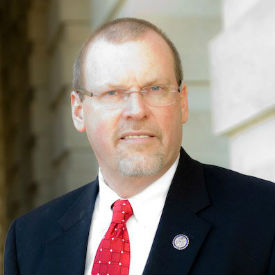 Members of Congress gathered together on the morning of Wednesday, February 28, not to vote or meet in committee, but for another important purpose: to honor the life of Reverend Billy Graham, who died on February 21.
Billy Graham was only the fourth person to "lie in honor" (distinct from lying in state) in the Rotunda of the Capitol. As an expression of the nation's respect for him, the President and the Vice President attended as well as many congressmen and senators. The security requirements for this event made it necessary to cancel most congressional business.
An honor guard carried a casket containing Reverend Graham's body up the steps of the East Front and placed it in the Rotunda. Instead of the flag-draped casket familiar to ceremonies such as this, Billy Graham lay in a simple pine plywood casket topped with a cross.
This rather plain-looking casket, however, has an extraordinary back story. It comes from the Louisiana State Penitentiary, a place called "Angola" because it stands where a plantation populated by slaves from the African nation of Angola once stood. Prisoners make caskets there, and this particular one has burned into it the names of three craftsmen, two of whom were imprisoned for murder and one for armed robbery.
The story of the casket is a fitting coda to Billy Graham's life. Jesus was crucified next to two criminals, one of whom doubted and one of whom believed. To the one who believed, Jesus said, "Today shalt thou be with me in paradise." Reverend Graham being laid to rest in a casket made by criminals follows in this spirit, the one that he spent his life preaching.
After the ceremony concluded, Members of Congress offered condolences to Reverend Graham's family. His son Franklin told us they were honored by the tributes, but as I replied, "We were the ones who were honored." I believe many of my colleagues feel the same.
Billy Graham was important because he brought a message of hope to millions.
The opioid crisis, in contrast, has devastated lives across the country. This tragedy consumed the attention of the House Energy and Commerce Committee's Subcommittee on Health during the afternoon of February 28.
Too many lives have been cut short by opioids. As Subcommittee Chairman Michael Burgess (R-TX) noted in his opening statement, 115 Americans die every day from an opioid overdose. In the year 2016, 1,405 Virginians lost their lives in this epidemic.
I noted earlier that most committee hearings for February 28, including other E&C hearings, had been cancelled, but the opioid crisis is too serious for us to not move forward as scheduled.
We have held several hearings looking at challenges posed by the opioid crisis. The Subcommittee on Oversight and Investigations, of which I am also a member, examined "pill dumping." In fact, Kermit, West Virginia, population 392, received nearly nine million hydrocodone pills over two years. Notable examples of this practice occurred closer to us in West Virginia, where two pharmacies in the town of Williamson, population 3,000, received 20.8 million pain pills over ten years; similarly, during a ten-year span in Mount Gay-Shamrock, population 1,779, a pharmacy received over 16 million doses of hydrocodone and oxycodone.
For point of reference, Hurley in Buchanan County is roughly 33 miles from Williamson. It's hard to imagine pills from Williamson did not make the journey into Southwest Virginia.
We are also studying the threat posed by fentanyl, a dangerous synthetic opioid.
Our past work prepared us for the February 28 hearing, the first of a series meant to look at specific legislation to help alleviate the problem. Doctors, pharmacists, researchers, and law enforcement officials offered their feedback on several bills meant to address the crisis.
Countless factors contributed to the emergency we face today, and a broad variety of viewpoints are essential to resolving it. Issues of health, law, and culture are all at play. But it's a challenge that must be faced.
Many Southwest Virginians understand this crisis because they live amongst it. Most of us know someone who has been touched in some way, who has struggled with opioids or, all too often, lost the struggle. Let's honor them by working to spare others from this tragedy.
If you have questions, concerns, or comments, feel free to contact my office.  You can call my Abingdon office at 276-525-1405 or my Christiansburg office at 540-381-5671. To reach my office via email, please visit my website at www.morgangriffith.house.gov. Also on my website is the latest material from my office, including information on votes recently taken on the floor of the House of Representatives.