Northumberland County authorities searching for missing teen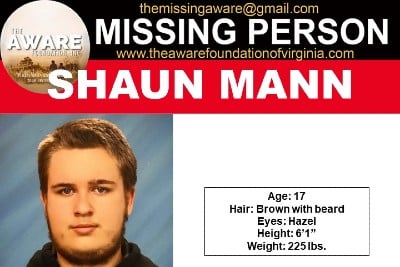 The Northumberland County Sheriff's Office is requesting the public's assistance in locating a 17-year-old male who may need medical assistance.
Shaun Mann was last seen at 12:55 p.m. on Monday in Northumberland County. He has a scar under his right eye and a beard. He wears eyeglasses but may have on contacts. He may be traveling in a black, 4-door 2009 Toyota Corolla with a Virginia tag plate number TWX6584.
If you have any information on Mann's whereabouts, contact the Northumberland County Sheriff's Office at 804-580-5221.