Norfolk Tides walked off by Jumbo Shrimp on Monday night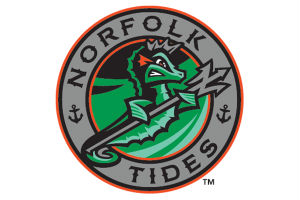 The Norfolk Tides (38-41) suffered a walk-off defeat to the Jacksonville Jumbo Shrimp (43-36), 1-0, on Independence Day at 121 Financial Ballpark to begin this six-game series.
With the Tides bats struggling to get going, Cody Sedlock kept the Jumbo Shrimp from putting any runs on the board, tossing 5.0 shutout frames, allowing just one hit and striking out four while walking just one. It was Sedlock's first scoreless outing since April 19. Rico Garcia followed out of the bullpen and also put up zeroes, working 2.0 innings and fanning one.
Logan Gillaspie worked a one-two-three eighth, but after the Tides were unable to come up with any runs in their half of the ninth, Willians Astudillo led off the home half with a single and was pinch run for Bryson Brigman. Lewin Díaz then followed with a double to score Brigman, handing Norfolk the loss.
The Tides offense could only muster four hits in the game, with Rylan Bannon's double the only extra-base hit. Anthony Bemboom was the only Norfolk batter to record a two-hit game.
Norfolk enjoys an off day tomorrow before returning to action on Wednesday in the second game of this series against Jacksonville. The Tides are scheduled to start LHP DL Hall (1-3, 4.68) and LHP Matthew Kent (4-5, 5.14) is slated to start for the Jumbo Shrimp. First pitch is scheduled for 12:05 p.m.