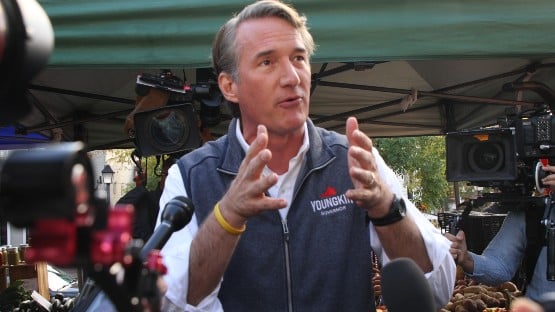 Virginia Democrats want to commit money from the state's $3.6 billion budget surplus to pay raises for teachers, law enforcement officers and state employees, and to actually put the money into mental health that Republicans say they want to fund anytime there's a mass shooting, after offering their thoughts and prayers.
Gov. Glenn Youngkin, trying to further his doomed effort to win the 2024 Republican presidential nomination, wants to use the surplus to put a down payment on permanent tax cuts for corporations and wealthy individuals.
"There's no reason why we shouldn't be able to have a substantial tax reduction," the governor told reporters at an event in Petersburg on Thursday.
Among those caught in the crosshairs are local school boards, who are awaiting whatever is going to come from lawmakers in Richmond to be able to finalize their budgets for the new fiscal year that started back on July 1.
Youngkin has hinted that he might call a special session of the General Assembly to try to force a deal on amending the two-year state budget adopted last year, though there's little indication that a special session would actually do anything there.
The split in party control of the General Assembly – Democrats hold the majority in the State Senate, Republicans hold the majority in the House of Delegates – requires bipartisan cooperation.
Youngkin, under self-inflicted pressure from his quixotic unannounced bid for the presidential nomination, can't exactly give away even an inch on his push for a billion dollars in tax cuts for his political benefactors, at the risk of providing his potential primary opponents something to use against him.
"We can actually put more reserves away to cushion any future problems and still cut taxes by a billion and invest $2.6 billion in critical investments. This is a time for us to recognize the reality of the numbers and to do what's best for Virginians," Youngkin said this week.
Senate Democrats have countered Youngkin's push for permanent tax cuts for those who don't need them with a proposal for a one-time rebate to taxpayers in the amount of $900 million, which seems reasonable considering the unusual nature of the current budget surplus, which feels like a windfall more than something that you should count on being there every year.
Youngkin treating it otherwise is partly a symptom of him being, like other governors, term-limited to the one four-year term, and then, he has higher aspirations, running for president, and he needs something substantive to make his case in the crowded GOP nomination field.