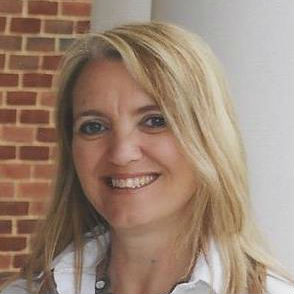 The Woodrow Wilson Presidential Library and Museum recently announced the appointment of Robin von Seldeneck as the new chief executive officer of the Woodrow Wilson Presidential Library Foundation.  The appointment was effective as of July 1, 2015.
Don Wilson, the previous CEO, will continue to serve as president, but will be working limited hours on the capital campaign on a consulting basis and will no longer have any administrative responsibilities regarding the daily operations of the Library and Museum.
Ms. von Seldeneck joined the staff of the Library in 2009, having most recently served as vice president and chief operating officer.  In her new position, she will be responsible for directing the day-to-day functions of the museum in accordance with the Museum's mission, objectives, policies, and priorities.
"I am very pleased to make this announcement and have been working closely with Robin for the past several months to accomplish this transition," Wilson said. "I have the fullest confidence in her talents and abilities to manage the Presidential Library and to take it to new and higher levels of fulfilling our important educational mission.   We are honored that she has agreed to assume this new role."
Ms. von Seldeneck has extensive managerial, educational, and museum experience.  In addition to her employment at the WWPL, she has worked at Stuart Hall School, Mary Baldwin College, James Madison University, and has experience as an independent educational consultant.  Ms. von Seldeneck is a graduate of Mary Baldwin College where she majored in both History and Political Science, and James Madison University where she received a Masters of Public Administration Degree.  She resides in Staunton with her husband and two sons.
In addition, Katherine Grayson Wilkins, granddaughter of Dr. Cary Grayson, Woodrow Wilson's personal physician, was elected as chair of the Board of Trustees for the Woodrow Wilson Presidential Library Foundation.  She succeeds Dr. Michael D. Dickens who has completed two terms as chair.  Wilkins is the advancement officer for the Journey Through Hallowed Ground Partnership and has also worked as the director of development for Give an Hour, a national nonprofit that provides free mental health care to veterans, active duty service members and their families; and in the development office and Center for Global Justice and Reconciliation at Washington National Cathedral, Washington, DC.
Wilkins has also served on the boards of St. Albans School, Foxcroft School, and the American Connemara Pony Society. She currently is a member of the board of All Hallows Guild which supports the maintenance of the grounds of the Washington Cathedral. A resident of Washington DC, Wilkins is married with three adult children and is a partner in her family's Blue Ridge Farm in Upperville, Virginia. She received a B.A. in history from Yale University.
Wilkins brings a wealth of non-profit experience to the office and the Board is confident she will continue to provide the strong leadership that the WWPL has experienced under the guidance of Dr. Dickens for the past four years.
The WWPL also announced the election of five new members to its Board of Trustees.  Bernadette McCarron Kincheloe, President of Nash-Kincheloe & Associates of Roanoke, VA.; Laura Nordstrom of Middlebrook, VA., sales representative at Astrazeneca Pharmaceuticals; Beth Scripps of Staunton, VA., formerly employed as the Preservation Planner/Research Historian with Frazier and Associates; Gregory B. Robertson, an attorney with Hutton & Williams LLP in Richmond, VA, and son of the late Richard "Dick" Robertson; and Emily Thomas Reed of Staunton, VA who recently finished a two year term as President of the Augusta Garden Club were elected to the Class of 2015-2018 Board of Trustees.